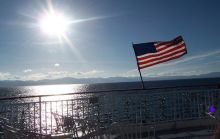 Don't let the Memorial Day weekend sneak up and take you by surprise. Make your plans now for a three-day-stay at Lake Tahoe in May. Memorial Day weekend is perfect for kicking off summer hobbies, a nice bike ride or mountain hike with the family.
Where to stay?
Lake Tahoe Hotel or cabin?
Are you coming up with a family or group of friends? Tahoe has a great selection of cabins and vacation rentals.
Reserve today
Check out Lake Tahoe Vacation Rentals
 
What to do?
A weekend for Lake Tahoe mountain bikers
This is the perfect weekend for avid mountain bikers and cyclists. Many mountain bike trails open on Memorial Day Weekend.
A nice family hike
Lake Tahoe has some great hikes for families. Bring a camera and enjoy the fresh air, preferably after a nice big breakfast.
Three days of Lake Tahoe golf
Lake Tahoe has many spectacular golf courses known for their beauty and challenge. We can't guarantee that your ball will fly farther in the thin mountain air, but if you believe (as we do) that Lake Tahoe is a paradise, then golfing in this kingdom is surely heaven on earth.