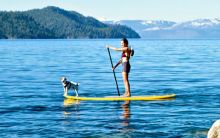 Lake Tahoe standup paddleboarding is quickly catching on wherever beautiful waterscapes exist, but what exactly is standup paddleboarding (SUP)? It's best described as a mix between surfing and canoeing or kayaking. The rider stands in the center of the board, which is like a large surf board. Using a paddle the rider can glide across the water, enjoy the the views and gain access to remote beaches. Tahoe is full of paddleboard rentals.
Where to Paddle?
Emerald Bay Beach — Limited parking, accessible by a 1-mile, steep, sandy hike from parking lot on Highway 89 or by trail from Bliss Park, about 4 miles. Picnic tables, Vikingsholm Castle, views of the only island in Lake Tahoe.

Meeks Bay — On Highway 89, 10 miles south of Tahoe City, adjacent to Meeks Bay Campground. Beach, boat launch, day use fee, restrooms, picnic facilities.

Sand Harbor — (Lake Tahoe Nevada State Park). Picnic facilities, restrooms, a huge beach and boulders for climbing. Parking $6 per car, boat launching (separate entrance) is $8, and anchoring in the harbor is $6. Annual permits are available. 2005 Highway 28 Sand Harbor, Nevada (775) 831-0494.

Kings Beach State Recreation Area — On Highway 28 in Kings Beach. A large, free beach with paid state parking ($10). Boat, Jet ski and other rentals are available. Barbecue areas, kid's park, and public restrooms.

El Dorado Beach — Base of Emerald Bay with a 1-mile hike down. Vikingsholm Castle, scenic, restrooms, picnic facilities.
Tips for new Paddleboarders
Some boards have handles. If not carry overhead with your head in the center between the tail (back) and nose (front) of the board.

Practice in calm water. Early morning is better.
Getting up
When standing up, start in the center of the board sitting on your knees.

From the seated position hold the paddle with both hands in front of you perpendicular to the board.

Move to the crouching position and slowly stand up, keeping your eyes on the horizon.
Maneuvering
Paddle with long fluid stokes.

Keep your feet about shoulder's width apart, pointing forward straight down the board.

Keep your knees bent and relaxed.

If you fall, fall away from the board and release the paddle. Swim back to the board first, then go after the paddle.