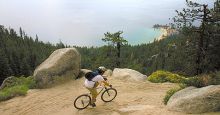 Lake Tahoe mountain biking around the lake and in Truckee can be challenging if you don't know what kind of trail you're on. Pair your riding ability with one of these great trails.



BEGINNER |  INTERMEDIATE |  ADVANCED
Beginner
North Shore
Blackwood Canyon/ Ward Creek — A paved country road with gentle terrain, open meadows and aspen groves. Cross the bridge and continue on pavement to climb 4 miles to Barker Pass summit, or turn left on the dirt trail spur through the forest to Ward Creek Avenue. Connect back along Highway 89 to Blackwood Canyon Road. This is a multiple use area. Parking, restrooms and bicycle campsites are available.
Fiberboard Freeway & Watson Lake — Partly paved, partly graded dirt road/path, good for novice riders. There are great lake views. Take a short side trip to Watson Lake. There is limited parking.
Truckee River Bike Path — For a paved, more leisurely ride, consider the Truckee River bike path or traverse the bike path along the North and West shores of the lake.
North Tahoe Nordic Center — A convenient sampler with potential for more. Pick some distinct landmarks and create your own loop on this easygoing network of trails, or make your way to the Fiberboard Freeway for more. Distance is variable/4 miles to the Fiberboard Freeway. Ride Time is variable/1-3 hours round-trip.
North Tahoe Regional Park — This 125-acre park contains many trails including the 300-foot climb North Ridge trail, which is the highest in the park. Maps and difficulty ratings are posted. Unsigned single-track paths wind throughout park. Several trails extend into adjoining USDA Forest Service land. A 1.2-mile paved bike path follows the lower east end of the park to Highway 267 to connect to the Tahoe Rim Trail on Regency Way at Brockway Summit.
 
West Shore
Sugar Pine Point State Park/ General Creek — Ride color-coded trails individually, or connect all five for the longest ride through the park. Lakeside yellow and orange trails offer lake views and access to an adjacent historic site; blue, red and green trails follow General Creek through the forested area with the red trail offering access to the 1960 Olympics biathlon range.
 
South Shore
Kirkwood — There's plenty of riding at Kirkwood winter and summer for both beginners and advanced riders.
Powerline Trail — One of the benefits of the Powerline Trail is that you can start from the heart of South Lake Tahoe and simply enjoy the fast, mellow, rolling terrain through forest and wildflowers in spring and early summer.
---
BEGINNER |  INTERMEDIATE |  ADVANCED
 
Intermediate
North Shore
Brockway Summit / Tahoe Rim Trail — Great vistas of Lake Tahoe, the Sierras and Carson Range with some technical single track. This trail starts at 7,200-feet and gives you technical descents and moderately steep climb. It's generally narrow and sandy with some rocky sections and occasional scree slopes near Rose Knob. There's limited dirt road parking and no facilities.
Emigrant Trail — A rolling trail with moderate, intermittent climbs. The rolling hills and flatlands that make up the Prosser Creek and Stampede Reservoirs are home to an 18-mile out-and-back, relatively easy trail that can be as vigorous or as leisurely as you like.
Western States Trail — A North Tahoe classic. Warm up on the bike path before climbing up and away from the Truckee River on this relentless string of switchbacks.
The Flume Trail — Nowhere are lake views more prominent than along the East Shore on Tahoe's legendary Flume Trail. Pedal with relative ease into the same backdrop you've seen in countless photographs depicting riders negotiating a sandy traverse high above Sand Harbor's turquoise waters and white sand beaches.
Martis Peak — This 5-mile climb along a wide fire road leads to the Martis Peak lookout. An outhouse and picnic area are available.
Tahoe Rim Trail — There are several TRT trailheads. The TRT is an interconnected trail around the Lake. Bikes are allowed on this trail on even days only. The trail from Mt. Rose to Spooner Lake is a 2-mile ride with a total elevation change of 720 feet. You'll encounter two steep ascents, but generally it's rolling hills and stunning views. Contact www.tahoerimtrail.org.
West Shore
McKinney-Rubicon Springs Road — This ride gives you a variety of opportunities from easy trails with some rocky sections and occasional scree slopes, technical descents and moderately steep climb. Trails are generally wide and frequented by off-road vehicles.
 
                                                                                                                                                                          East Shore
Spooner to Marlette — A rolling climb leads into a steep ascent then a short descent to Marlette Lake. Enjoy impressive fall foliage and mountain views. Keep going left around Marlette to get on The Flume Trail.
 
South Shore
Kingsbury to Spooner — If you're looking for some great views, technical riding, good climbs and fun descents, this is the trail for you.
---
BEGINNER |  INTERMEDIATE |  ADVANCED
 
Advanced
North Shore
Northstar California — Let the lifts take you the top so you can get more miles in. There are many trails here, from beginner to advanced, including a terrain park with manmade and natural features. With more than 100 mountain bike trails, you are sure to find something for you. More »
Tahoe Meadows to Marlette Lake or Spooner Lake — Here's a hearty ride with exquisite scenery. Sample one of the better sections of the Tahoe Rim Trail from this northeast corner of the lake, and take in the dramatic views down to the Carson Valley and back to the Tahoe basin. Distance is 20-plus miles. Ride Time is 4-6 hours.
Hole in the Ground — Ready for a challenging loop atop Donner Pass? This one is a tough climb to start, then the trail descends into the lower Castle Creek Valley where it twists and turns as often as it rolls up or down. Swim at Lake Lola before finishing the last third of the ride.
Stanford Rock Loop — This one is a single-track loop with a challenging climb and technical descent. Views include alpine forests, Stanford Rock and Ward Canyon.
 
East Shore
Flume Trail — Rewarding views of Lake Tahoe and the surrounding Sierra come with this trail. A shuttle bus at the north end of trail returns to Spooner Lake parking for $10 fee, or shuttle a car to Ponderosa Ranch.
 
South Shore
Mr. Toad's Wild Ride — Touted as one of the most technical, demanding and exhilarating rides in the Tahoe area, you'll climb 3,200 feet before screaming down the technical Saxon Creek Drainage on the way home. Bring plenty of water.