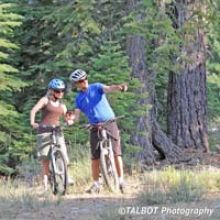 Lake Tahoe North Shore
---
EMIGRANT TRAIL
Beginner/intermediate, 19 miles out and back. This popular Lake Tahoe mountain bike trail sees plenty of weekend traffic, but it's a worthy ride for people of all ability levels. You'll see plenty of wildflowers in spring and early summer while you roll along over fun and fast single track.
Getting there: Take exit 188B off I-80, head north on Highway 89. Trailhead is on the right past Prosser Creek Bridge.
HOLE IN THE GROUND TRAIL
Advanced, 17 miles. If you're dying to test your technical skill, you owe it to yourself to ride Hole in the Ground. After climbing for a short time on a two-track road, you'll turn left onto a technical single track that doesn't let up for the entire ride. This ride is a challenging loop atop Donner Pass with a tough climb to start and challenging descent into lower Castle Creek Valley with many twists and turns and ups and downs. Sights include Lake Lola.
Getting there: Take I-80 west to the Boreal Ridge exit, then go right at bottom of off-ramp. Park at pavement end. Pedal up the two-track and stay left of Pacific Crest Trail. Follow the primary single track the rest of the way.
NORTHSTAR CALIFORNIA TRAILS
There's a new vocabulary in Lake Tahoe mountain biking these days. Do you ride regular trails or do you ride at Northstar? And that's thanks to Northstar California's more than 100 mountain bike trails. From beginner to advanced, they have it all.
Getting there: Take I-80 east to the Highway 267 exit then right at the signs for the resort. Highway 28 to Highway 267 in King's Beach.
Lake Tahoe East Shore
---
THE FLUME TRAIL
Intermediate/advanced, 23-mile loop or 13.5-mile shuttle assisted downhill. You cannot come to Lake Tahoe to mountain bike and miss the Flume trail. This iconic trail provides dramatic views of the Lake while it hugs a steep hillside 1,500 feet above the blue waters. Pedal with relative ease into the same backdrop you've seen in countless photographs depicting riders negotiating a sandy traverse high above Sand Harbor's turquoise waters and white sand beaches. Make an out-and-back ride from Spooner Lake, or have a car waiting at the Ponderosa Ranch parking lot where Highway 28 heads south from Incline Village. The Flume Trail is well marked throughout the ride. After the climb to Marlette Lake most of the ride traverses a mild grade. At the Flume's end, descend left on Tunnel Creek to Ponderosa/Incline.
Getting there: From Incline Village, head south 10 miles on Highway 28 to the Spooner Lake State Park on the left. There's paid parking only, and shuttle services are available to get you from Ponderosa back to your car.
Lake Tahoe South Shore
---
KINGSBURY TO SPOONER TRAIL
Intermediate/advanced, 9.6 miles one way. If you're looking for some great views, technical riding, good climbs and fun descents this is the trail for you. You'll gain 1,220 feet and lose 1,540 feet over 9.6 miles, then turn around to gain what you've lost and lose what you've gained. Or set a shuttle half-way if you're short on time or motivation. The views rival the Flume trail on this technical ride where you'll have to be ready for rock steps and hairpin turns. Follow the orange diamonds to stay on track.
Getting there: From Highway 50 at Stateline head up Kingsbury Grade toward Daggett Pass, turn left on North Benjamin and park in the lot where the road turns to dirt. Ride up the main road and turn left at the third road. About a half-mile later, turn uphill to start the ride.
KIRKWOOD TRAILS
Beginner/intermediate/advanced, all distances. There's plenty of riding at Kirkwood winter and summer for both beginners and advanced riders. Beginners will want to try Summer Road, which starts at the base area and climbs to the top of Chair 2 before descending to Chair 3. Intermediate riders should check out Vista Trail into Devil's Corral continuing on either Upper Corral or Lower Corral loops. This ride features fun single track with plenty of wildflowers, waterfalls and creek crossings. Advanced riders head to Thunder Mountain and Horse Canyon trails with exhilarating descents.
Getting there: From South Lake Tahoe take Highway 50 toward Meyers and turn south on Highway 89. Continue 11.1 miles before turning west (right) at the Highway 88 junction. Turn left into Kirkwood after 14.3 miles.
MR. TOAD'S WILD RIDE TRAIL
Advanced, 20-mile loop. Lake Tahoe mountain bikers can breathe easy on this highly technical and arduous trail. However, that doesn't mean this ride is going to be easy. Toted as one of the most technical, demanding and exhilarating rides in the Tahoe area you'll climb 3,200 feet before screaming down the technical Saxon Creek Drainage on the way home. Bring plenty of water.
Getting there: From South Lake Tahoe head east on Highway 50 toward Myers. Turn onto Pioneer Trail at the stop light and follow for almost a mile before turning right on Oneidas. Park at the turnoffs past the Forest Service gate.
POWERLINE TRAIL
Beginner/kids, out-and-back ride. One of the benefits of the Powerline trail is that you can start from the heart of South Lake Tahoe and simply enjoy the fast, mellow, rolling terrain through forest and wildflowers in spring and early summer, or you can use the Powerline trail to hook up to longer rides on the Tahoe Rim Trail or Mr. Toad's Wild Ride. Beginners will simply want to stay on the Powerline trail and turn around when they've had enough. Caution: This trail is open to motorized vehicles.
Getting there: Powerline parallels Pioneer Trail Road, making many access points along the trail, but to start from the top turn up Ski Run Boulevard from Highway 50. Turn right again near the top of the road before it dead ends.