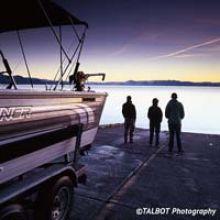 The Lake Tahoe and Truckee region provides some of the best opportunities for anglers to wet a line. Whether a novice or expert, there's a Lake Tahoe fishing experience that's right for you.
Novices will find the waters planted by the California Department of Fish and Game's hatchery program afford a chance to catch some very nice rainbow trout. Seasoned fishermen can fish the pristine mountain lakes of the backcountry, Lake Tahoe, the Truckee River, Donner Lake or any one of the many other reservoirs, lakes and streams. Anglers can typically choose to fish from the bank or from some form of watercraft. The method is usually determined by the species sought. 
The Tahoe region is home to mackinaw trout, rainbow trout, brown trout, brook trout, golden trout and kokanee salmon. Mackinaw trout, or lake trout, are typically found in the deepest reaches of Tahoe, Donner and Stampede lakes. It's possible to catch Mackinaw that are well over 20 pounds. If you are an angler seeking Mackinaw, it is best to hire an experienced guide the first few times you go to familiarize yourself with the tackle, techniques and general location of these lake denizens — a boat and specialized gear are usually required.
Fishing for kokanee salmon has become increasingly popular because the fish are available in a number of local lakes. Kokanee are actually landlocked sockeye salmon and are prized catches because they provide excellent sport and table fare. The most popular locations for kokanee are Stampede, Tahoe, Donner and Boca lakes. Anglers catch kokanee while trolling, using both downriggers and top-lining equipment.
Rainbow and brown trout are found in most of our roadside waters and many of our backcountry lakes and streams. These fish are typically caught with the widest variety of methods. Special regulation waters such as the Wild Trout Section of the Truckee River and Martis Lake are good for the artificial lure or fly fisherman. Fly fishing has enjoyed phenomenal growth over the past decade, and the area grows increasingly more popular for this type of fishing each year. Brook trout and golden trout are typically found in backcountry waters. These lakes usually take some work to access, but those willing to hike in can enjoy some memorable fishing. Both brook and golden trout are beautiful fish. Brooks tend to be the more accessible of the two and are found in more waters than the golden here. Golden trout are generally found in the most difficult to reach lakes in our backcountry. For this reason, not many anglers take the time and effort to catch one. They are not large, but their sheer beauty is endearing to anglers.
Anglers trekking into the backcountry will have the most success if they carry a float tube. It allows access to many lakes that are too difficult to fish from shore. While in the backcountry, seasoned anglers recommend using fishing bait, artificial lures or flies.