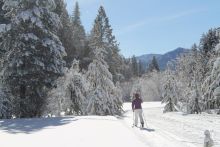 When you visit the beautiful Lake Tahoe region in winter, it is immediately evident that this is a playground of snowy outdoor fun. Lake Tahoe is known for its ski and snowboard resorts, but there is another form of gliding on snow that also deserves equal attention: cross-country skiing.
Lake Tahoe cross-country skiing is just as popular as utilizing chair lifts. In fact, many people who moved to the area for resort skiing and are now more dedicated cross-country skiers who hung up their resort passes long ago. There are actually two types of cross-country skiing, classic and skate skiing. Skate skiing is done on shorter skis with shorter poles, and the styles use different body motions.
Lake Tahoe cross-country skiing and skate skiing can be addictive activities that connect you with the tranquility of Mother Nature. Lake Tahoe cross-country skiing compares to some of the best in the country, and not just because of the beauty that surrounds the trails. There are thousands of acres of skiable terrain, including golf courses that transform into ski parks in the winter. You'll find trails associated with subdivisions, such as Tahoe Donner and Northstar, others that are part of municipalities, such as Tahoe Cross Country Ski Area in Tahoe City, and those that are part of parks, such as Donner Memorial State Park and Ed Z'Berg Sugar Pine Point State Park. Most of these terrains are also popular for snow-shoeing too. As an added amenity, many of the trails for cross-country skiing in Lake Tahoe are dog friendly (but be sure to protect those paws!).
Continue reading to learn about the impressive Lake Tahoe cross-country skiing parks, then get out there and enjoy this beautiful outdoor playground.
Photo: Tahoe Donner Facebook
Truckee's premier cross-country belongs to Tahoe Donner. Set up alongside their beginner ski area, Tahoe Donner has created miles of fun with more than 100 kilometers of groomed trails, including trails designated for diagonal striding, skate skiing as well as snowshoeing. The trails are known for their picturesque treed glades, gentle rolling hills and long meadows along the Euer Valley. In total there are 4,800 acres of skiable terrain, which is split into 56 trails (of which four are for snowshoeing only) within three track systems. To make things even better, there are five warming huts along the way to keep you toasty. 
Living up to its name, Royal Gorge Cross Country Ski Resort is a cross-country area that is big enough that it could be created for royalty. It is the largest private trail system in all of California, with 6,000 acres of terrain and more than 200 kilometers of trail, of which 90 kilometers are groomed with skating lanes on the inside track. The immense area is now owned by Sugar Bowl Resort, assuring a high level of grooming and amenities. Some of the benefits that come with being linked to the ski resort include snowmaking for some of the trails and an impressive fleet of snowcats, not to mention chair lifts to help access some of the steeper trails. This is a full-service cross-country ski area, complete with rental equipment, a ski school, 10 warming huts, four cafes and even a full-time ski patrol. It is an impressive endeavor worthy of a visit. Located just off of Interstate 80, just west of Donner Summit via the Soda Springs exit, visiting Royal Gorge couldn't be easier.
Considered one of the best training grounds in the country for multiple athletic endeavors like alpine, nordic, biathlon and snowboard racing, ASC Training Center (Auburn Ski Club Training Center) is set up perfectly for honing your chosen sport, whether you are a first-time skier or Olympic hopeful. Their nordic center is open to the public and includes more than 25 kilometers of trails that are groomed nightly to competition standards. Another fantastic aspect of their trails is the wide, overlapping loops that allow skiers of any ability to be no more than 5 kilometers from their cozy ski lodge, making them safe at all times. There are a ton of terrain options, and the center has done a fabulous job at offering those training for athletic greatness a place to sharpen their abilities while at the same time giving a playground for those new to the sport. Another bonus of the ASC Training Center is its stellar location on Donner Summit at 7,200 feet, helping to ensure plentiful snow all season long.
Nestled 2 miles within the city limits of Tahoe City, Tahoe XC is a mecca for fun. With a plethora of trails for all abilities, a ski school and clinics, Tahoe XC is considered by many locals to be the favorite place to get their cross-country skiing on. Located smack dab in the middle of one of Tahoe City's best neighborhoods, it also has a feeling of being a part of the community. There are fantastic views of Lake Tahoe from the 65 kilometers of groomed trails and skating lanes as well as a small day lodge, a cafe and a rental program. They also offer skiing for free to anyone older than age 69 or younger than 10. Dogs are welcome as well.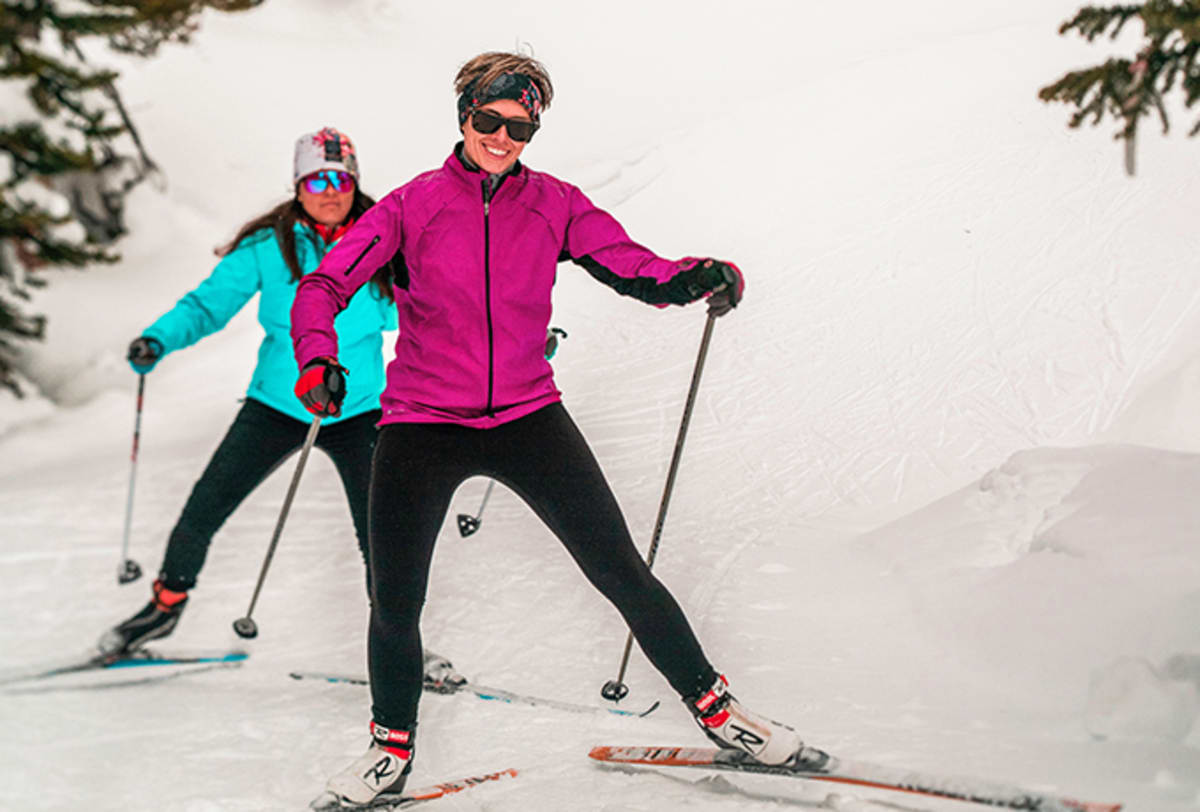 Photo: Kirkwood
Northstar-at-Tahoe Cross Country Ski & Snowshoe Center
Situated at Northstar, this cross-country arena with more than 50 km of groomed and marked trails is one for those who enjoy a polished experience. You can enjoy a leisurely approach to the trails with a ride upon the gondola or quad chairlifts as well as manicured cross-country trails. There are rentals available as well as snowshoes, giving options for those new to the sport. A bonus of skiing here is that your lift ticket is interchangeable for the alpine area and the cross-country ski trails, giving you even more options. To give the experience that extra special touch, there are warming huts and picnic tables along the trails. Hot tip: One of their best trails takes you from the top of the resort all the way to Tahoe City ... an excursion for the memory books.
Adjacent to the Village at Squaw Valley and connected to luxurious Resort at Squaw Creek is the beautiful Squaw Valley meadow, which becomes a playground for cross-country skiing and leisurely walking come winter. As a part of the Resort at Squaw Creek, the area is the resort's impressive golf course in the summer, giving it a nice dual purpose. Smaller than the other cross-country ski areas, with 18 kilometers of groomed tracks, it still has trails that range from beginner to expert. They offer rentals and lessons as well.
Shoreline Cross Country Skiing
One benefit of South Lake Tahoe is that there are easily accessed trails that are free to use. For example at South Lake Tahoe "Y" intersection, there are trails that skirt the lake near the beaches of Pope, Kiva and Baldwin as well as Tallac Historic Site and Taylor Creek Visitor area. These trails aren't groomed or for skate skiing, but they give you the immense beauty in exchange.
For those who are looking for a place to play with the family, Camp Richardson's Mountain Sports Center will provide what you are looking for. Transitioning their summer hiking and biking trails, Camp Richardson becomes a mini winter playground for cross-country skiing, sledding and snowshoeing. They have a rental program and a small shop to help outfit you in warm attire. They also have a strict no dogs policy.
Meyers
Another fantastic area for free cross-country skiing is a little west of South Lake Tahoe's "Y" along Lake Tahoe Boulevard as well as Tahoe Mountain Road and North Upper Truckee Road. These family fun areas are accessed most easily by parking at the Forest Service gates and then playing in the Washoe Meadows State Park as well as the Angora Ridge zone, which was burnt in a forest fire in 2007, making it more open and easier for cross-country skiing and backcountry skiing. 
Lake Tahoe Community College and Bijuo Park have combined forces to offer superb cross-country skiing in the form of LTCC Nordic Center. This is a pass-only park, but it does offer 5 to 7 kilometers of nicely groomed trails and skate skiing.
Maybe my favorite area for cross-country skiing, Kirkwood's offering of 60 kilometers of groomed trails is a safe bet for good snow as it is set at 7,800 feet. With its awe-inspiring scenery and terrain perfect for all abilities, Kirkwood has created a cross-country playground worthy of visit. It has three interconnected trail systems, two trailheads, lessons for groups or privates, tours offered by experienced guides as well as ski, skate ski and snowshoe rentals. Kirkwood covers all the bases for an experience that is sure to put a smile on your face. There are day and season passes available.