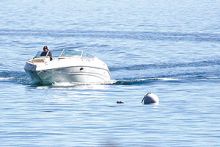 Taking to the glistening waters for some Lake Tahoe boating is exhilarating and thrilling and comes with a few rules and regulations to keep the experience pleasurable for everyone on the lake. Some important details about boating Tahoe that may differ from what visitors are familiar with include a 600-foot no-wake zone from the shore around the entire lake and includes a posted speed limit of 5 mph in Emerald Bay, within 600 feet of the shore, 100 feet of swimmers and paddlers and 200 feet of structures. Areas marked with white buoys indicate underwater obstructions, and the buoys should be kept between the vessel and the shoreline. Additionally, two-stroke engines are prohibited from use in Lake Tahoe and in all lakes within the Tahoe Basin.
To help keep everyone up to date on the rules and regulations of enjoying Big Blue, the Tahoe Regional Planning Agency recently released a free app that includes interactive maps for boaters and paddlers. The free Tahoe Boating app is available from online application stores or at the TRPA's website. www.tahoeboating.org
Boaters from the Nevada side should be aware that those born in 1983 or later are required to complete a boater education course approved by the Nevada Department of Wildlife before operating a boat on Nevada's interstate waters. On the California side, resident boaters who are 35 years or younger operating a craft on insterstate waters such as Tahoe need to have their California Boater Card.
Despite the generally safe conditions afforded by Lake Tahoe, boaters need to be prepared for dangerous situations. When out in the water, you should ensure your vessel is equipped with the safety equipment required by federal law. Such items include life jackets, fire extinguishers, a whistle, a bell or horn, a visual distress signal or flare, a ventilation duct allowing for proper ventilation of inboard gasoline engines and a backfire flame arrestor for inboard engines.
Also, the wind can be quite gusty and cause unsafe boating conditions, so know the weather before you set out. Current weather information is available from the National Weather Service website.  https://www.wrh.noaa.gov/total_forecast/getprod.php?wfo=rev&sid=rev&pil=rec
The most important thing to know about the boating policy is the inspection requirements that state that an Aquatic Invasive Species inspection or an intact inspection seal are required before you arrive at any Lake Tahoe boat launch facility.
No drop-in inspections are available for the remainder of the 2020 season. All inspections must have an appointment, which can be made online at the Tahoe Boat Inspection website. https://calendly.com/tahoe-boat-inspections-phase2?month=2020-09&date=2020-06-26 Face coverings are required, as is six-foot social distancing, and you should show up for your appointment with your boat clean, drained and dry.
Inspection stations are currently available at Meyers on the way into the Tahoe Basin on U.S. Highway 50 from California, at Truckee coming in from I-80 and at Spooner Summit on U.S. 50 coming to Tahoe from Carson City. The inspection station at Alpine Meadows, California, is planned to be open later this summer. Public launch ramps currently open include Sand Harbor, Cave Rock, Lake Forest, Kings Beach and Tahoe Vista.