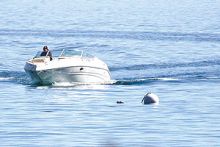 Taking to the glistening waters for some Lake Tahoe boating is exhilarating and thrilling and comes with a few rules and regulations to keep the experience pleasurable for everyone on the lake. The Tahoe Regional Planning Agency (TRPA) has launched Blue Boating, a comprehensive guide to Lake Tahoe boating safety and regulation. This establishes a 600-foot no-wake zone from the shore around the entire lake and includes a posted speed limit of 5 MPH, enforced by patrol boats. Areas marked with white buoys indicate underwater obstructions, and the buoys should be kept between the vessel and the shoreline. Also, see this site for more boating information. New regulations that came into effect in 2018 and are being phased in my age require you to pass an approved boating safety examination and to carry a lifetime California Boater Card. You can find more information on safety courses here.
Despite the generally safe conditions afforded by Lake Tahoe, boaters need to be prepared for dangerous situations. When out in the water, you should ensure your vessel is equipped with the safety equipment required by federal law. Such items include life jackets, fire extinguishers, a whistle, a bell or horn, a visual distress signal or flare, a ventilation duct allowing for proper ventilation of inboard gasoline engines and a backfire flame arrestor for inboard engines.
Also, the wind can be quite gusty and cause unsafe boating conditions, so know the weather before you set out. Sources are TV Channel 31, 93.9 FM or 590 AM or VHF Channel WX1. The most important thing to know about the boating policy is the inspection requirements that state that an Aquatic Invasive Species inspection or an intact inspection seal are required before you arrive at any Lake Tahoe boat launch facility.
There are six inspection sites: Northstar at Tahoe, Alpine Meadows, Myers California (Highways 89 and 50), Spooner Summit, Homewood and Incline Village. Boaters also need to buy a Watercraft Inspection Sticker either at the inspection site or at the first boat launch of the season. Public launching facilities are available at Sand Harbor, Cave Rock, Lake Forest, Ski Beach, Incline Village, Tahoe Vista, Kings Beach and El Dorado Beach. And remember, don't drink and drive — it's against the law!