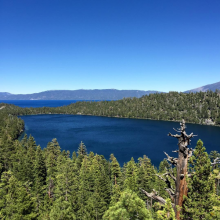 Lake Tahoe's vibrant South Shore burns with energy. As Tahoe's most populated area, it draws folks with the scenic environment, thriving arts scene and, of course, lake accessibility and all the recreation that it includes. South Lake Tahoe beaches, both in the city and along the South Shore, offer plentiful opportunities to relax, swim, picnic, parasail, kayak, paddleboard and more. Be sure, too, to leave time to see Emerald Bay on the South Shore. This majestic state park boasts a reputation as the most widely photographed spot in Lake Tahoe.
The beaches on both the California and Nevada sides of the South Shore of Lake Tahoe showcase awesome panoramas of the basin. Keep in mind, too, that the shores of South Lake Tahoe in Nevada, you have the option of beaching during the day and in the evening, heading to casinos' card tables.
Depending on whether you're looking for a beach where you can soak up the sun, launch a kayak into the water, take a postcard-worthy photo or have close access to a milieu of onshore activities, check out a bit of what the distinctive south shore Lake Tahoe beaches offer.
This long, sandy beach offers abundant space for sunning, swimming and other surf and sand-related play. Visitors have access to restrooms, picnic facilities, barbecue grills and, for a fee, parking. Head 4 miles north of the intersection of U.S. Highway 50 on State Route 89 to get to this South Lake Tahoe beach.
South Lake Tahoe Beaches: El Dorado Beach
Head to the heart of South Lake Tahoe to check out this beach at Lakeview Commons. This popular spot offers panoramic views of the lake, complete with mountain peaks on the other side. The sandy shore is slim, but amphitheater-style seats lead down to the beach and water. There's a public boat launch, restrooms and facilities for picnics and barbecues. If you're looking for water recreation, nearby you'll find options for kayak, peddle boat and standup paddleboard rentals.
Getting to this beach requires a sense of adventure (and if you're savvy, a camera too). Take the 1-mile hike downhill from where you first access Emerald Bay State Park. There, you'll also find Vikingsholm Castle, a top Lake Tahoe attraction. The beach itself provides visitors with restrooms, picnic areas and a scenic spot to rest and drink in Emerald Bay's beauty.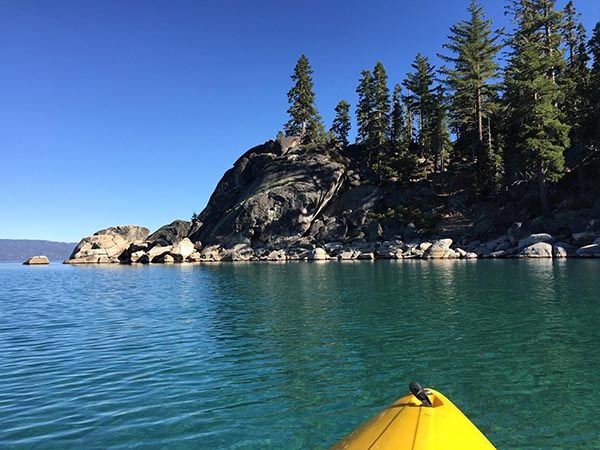 Photo Credits to Sierra State Parks Foundation
Lake Tahoe Beaches: Fallen Leaf Lake
A drop of a lake in comparison to the vast Lake Tahoe, Fallen Leaf Lake is reached through Fallen Leaf Road off of State Route 89. Visitors can park in the public lot, and from there, take a 15-minute walk down the right-hand paths reach the lake. Rest assured that this gentle walk isn't as challenging as the paths farther up the road that attract hiking enthusiasts.
Savvy up on this hidden gem of Lake Tahoe beaches. Travel off the beaten path, heading north of the intersection of Highway 50 and Highway 89 to where you can park at the visitors center. From there, Kiva Beach awaits down a forest-covered trail. The wide, sandy shore provides easy access to the water, and it's one of the few pet-friendly beaches in Tahoe that allows dogs.
South Lake Tahoe Beaches: Nevada Beach
Jump into the cobalt blue waters around Nevada Beach, or enjoy a picnic lunch in the midst of the surrounding Sierra Nevada skyline. Just 2 miles north of the state line, you'll find this South Lake Tahoe beach off of Elks Point Road. Onsite rentals for kayaks and a food concession stand maximize water recreation and picnicking opportunities. Towards the south side of the beach, visitors find a pet-friendly, boat-in picnic area. If you park a vehicle, there's an $8 day-use fee. And we'll clue you in on a little tip too – Nevada Beach presents a premier vantage point for fireworks on the 4th of July.
South Lake Tahoe Beaches: Pope Beach
Swim while nestled among the mountains on the picturesque Pope Beach in South Lake Tahoe. This spot presents just under a mile of sugar sandy beach leading into the lake waters, which on hot days, practically beckon visitors in for a quick dip. The beach also offers charcoal grills, kayak rentals, restrooms and more. There's a parking lot with an $8/vehicle fee, and visitors will find their destination 2 miles north of the intersection with Highway 50 on Highway 89. For an adventure, though, head there on bike via the Pope/Baldwin bike path.
South Lake Tahoe Beaches: Regan Beach
Check out one South Lake Tahoe's first public beaches! Divided between Regan Beach Main and Regan Beach West, the main spot lies on Lakeview Avenue, and West is on Lakeview Avenue and Sacramento Avenue. The beach features an observation deck, playground, beach volleyball court, restrooms and excellent grassy space for picnicking and relaxing. Dog owners can bring their pooch to the Dog Water Park area but only to there. Regan Beach West, while smaller, offers a lush, beautiful spot ideal for private events. When not serving as an event venue, Beach West is open to the public.
Located off Lake Tahoe's East Shore, Spooner Lake is part of the picturesque Spooner Lake Management Area, which is home to acres of sprawling forest covered in hiking trails and a campground. The lake, initially constructed as a reservoir for irrigation, draws visitors with abundant fishing opportunities. Medium to large-sized trout roam these waters as well as Lahontan tui chub. If you want to eat your catch at its freshest, there are barbecue grills and picnic tables onsite in addition to restrooms and the parking. Find Spooner Lake off of Highway 50 and Highway 28.
South Lake Tahoe Beaches: Timber Cove Beach
Nestled in the heart of South Lake Tahoe, Timber Cove Beach offers easy access to nearby restaurants, shops and entertainment options. Don't be fooled by its proximity to the Timber Cove Resort – the beach welcomes both resort guests and the public. Picnic onshore or play on the lake with kayaks, paddleboards or other water equipment that's rented out during the summer. With a marina onsite, the beach gives boaters a place to dock, fuel up and direct access to the shore's offerings.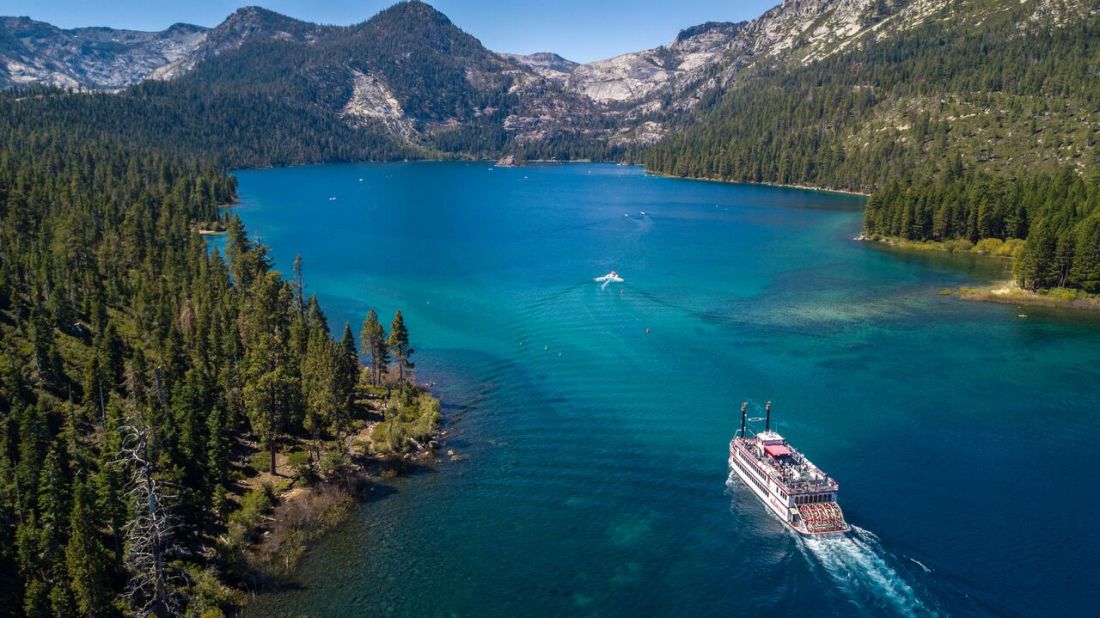 Photo Credits to Zephyr Cove Resort
Activity flourishes at Zephyr Cove Beach with almost-endless varieties of water recreation. With plentiful equipment rentals, beachgoers have their choice of kayaking, canoeing, powerboats, tubing, water skiing, wakeboarding, kneeboarding and more. There's even a paddlewheeler that can ferry you up to Emerald Bay for a cruise. Visitors can reach the beach by taking Highway 50 to Zephyr Cove. From there, parking is available for about $10.