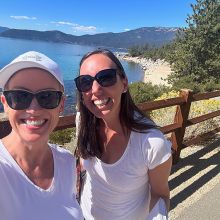 Longtime local and Realtor Tanya Soule and I decide to walk the Tahoe East Shore Trail on this picture-perfect afternoon. This trail was a passion project for the Incline Village community, which raised more than a million dollars to build a safe 4-mile paved stretch from the eastern end of Incline Village to Sand Harbor State Park, most of it along the shoreline. Tanya donated to the project in her parents' and daughter's names, which can be seen engraved on a wall near the trailhead.
As we stroll along the path with fellow bikers and pedestrians, we talk about what's going on in this post-pandemic real estate market. In the beginning of it in 2020, the market was booming in Tahoe, as people figured out they could work remotely and have amazing access to the outdoors. "Being remote changed everything," Tanya says. Tanya explains that Tahoe still caters to the new, post-pandemic remote lifestyle. 
"Being closer to the ski resorts means that residents can go from being on a conference call to skiing on Diamond Peak within 10 minutes," she says. "Or you can ski and be on your conference call."
Tanya says that she combines work and play quite often, taking client meetings on chairlifts or working from her laptop down on the beach.
"The people who settled here during the pandemic are really loving their new lives," Tanya says. "They're glad that their circumstances changed and they got pushed into this. It gave them the ability to reprioritize their lives. They can do everything they want here."
While the influx of new residents did inevitably push up home prices in the Tahoe market, people who bought homes from Tanya and sold their homes with her during that time feel like they made the best decision. For sellers, Tanya uses creative and unique marketing tactics to get them the most profit. The Sugarpine Drive home that was featured in this magazine two issues ago sold for $11.5 million, around the time that it won HGTV's Ultimate House Hunt in the Countryside Retreats category.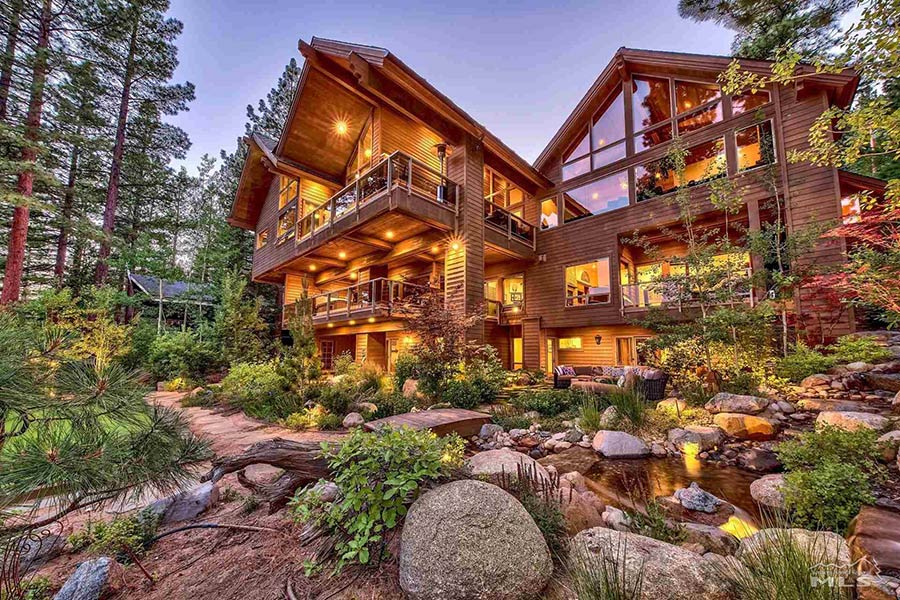 For buyers, Tanya's website, livingtahoe.com, has an easy-to-use search portal on its front page that quickly pulls up results such as home prices and preferred areas and offers gorgeous photography highlighting the properties. Her page's instant valuation provides three different perspectives to give a general idea of your home's value. She also offers a more comprehensive valuation that is tailored to your specific build, features, condition and location if you reach out to her directly.
"Zestimates can be inaccurate, especially here in Tahoe with so many customized homes," Tanya says. "Zillow doesn't walk through the homes like a Realtor does."
Tanya sends out monthly market reports via email (you can also access the most recent version on her website), giving potential buyers and sellers clear insights as to what is going on in the local market. For instance, Tanya explains that there is a shift happening in the market right now. She's seeing a settling into a new norm of the luxury market.
"It's important to take an analytical approach with a local Realtor who knows your niche," she says, "rather than listening to the market rhetoric that may or may not apply to your home."
Tanya explains that she's seeing some price reductions, but most homes are settling in around the prices of the most recent comps versus continuing to push the price levels as they had during 2020, 2021 and the first part of 2022. It's important for buyers to understand that they shouldn't miss out on an opportunity when inventory is low, and Tanya can help a seller give a fair valuation on their home to help it move off the market.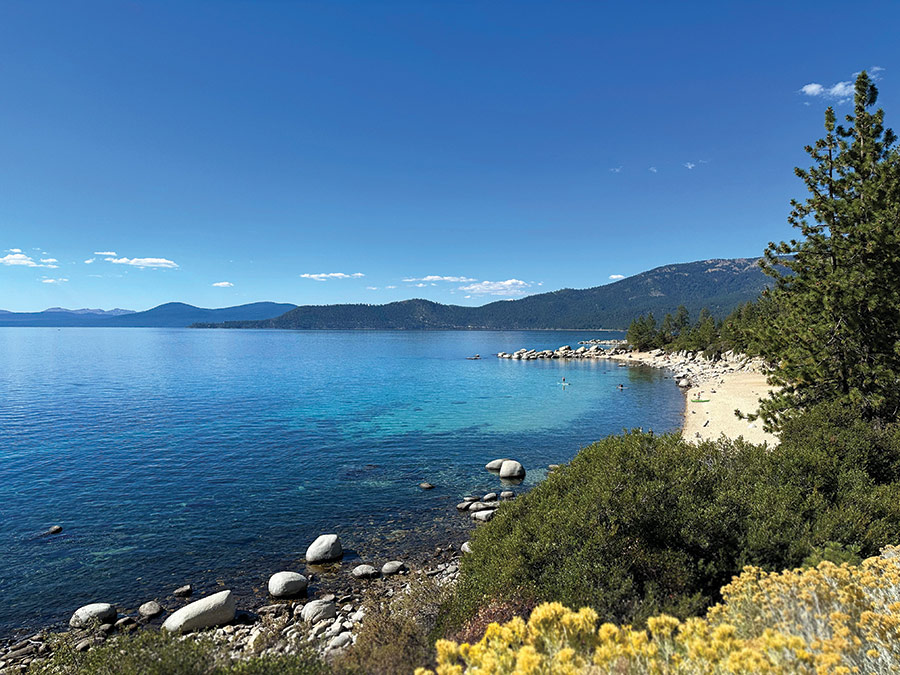 At this point in our trail-hike conversation, Tanya and I reach an enclave on the East Shore Trail overlooking the strikingly gorgeous Big Blue. We have both probably taken a million pictures of the lake from this trail, but we can't stop ourselves from taking just a few more. 
We look out at the incredible natural world around us and both claim almost at the same time, "I can't believe I live here!" 
And with the help of Tanya Soule and livingtahoe.com, you can too. 

(775) 690-2341 
tanya@livingtahoe.com
www.livingtahoe.com
---