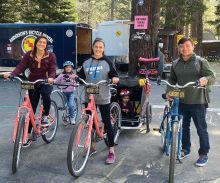 With miles and miles of paved bike trails on both sides of the lake as well as world-class mountain biking trails and road cycling opportunities, Lake Tahoe is a two-wheel wonderland. And one family in South Lake Tahoe, the Andersons, has been helping people experience the fun of biking Tahoe for 44 years.
I went to meet the family behind the South Shore's first and original bicycle shop this spring. At Anderson's Bike Rental on Emerald Bay Road, I found matriarch Sue Anderson helping a group get their waivers signed, while her soon-to-be son-in-law, Andy Kinard, was getting their bikes ready, their warm and friendly service and helpful local knowledge ensuring that this group would have a great day biking the trails.
In their friendly demeanor and energetic attitude, it was easy to see that this family has a passion for helping others have fun. They love what they do and it shows.
Anderson's was able to open early this spring due to nice weather. It hired a company to clear the trail, but Sue also went out and personally swept the entire path herself so that her guests would have a more enjoyable riding experience. She says she loves riding through the national forest to the beaches and looks forward to sharing that experience with her guests every year. 
Anderson's has a stellar location. It is the only bike rental business at the beginning of the National Forest Bicycle Trail, the 4-mile path that links to the Pope-Baldwin Bike Path and the beach. Bicyclers can ride the trail to local attractions without having to access any busy streets or highways.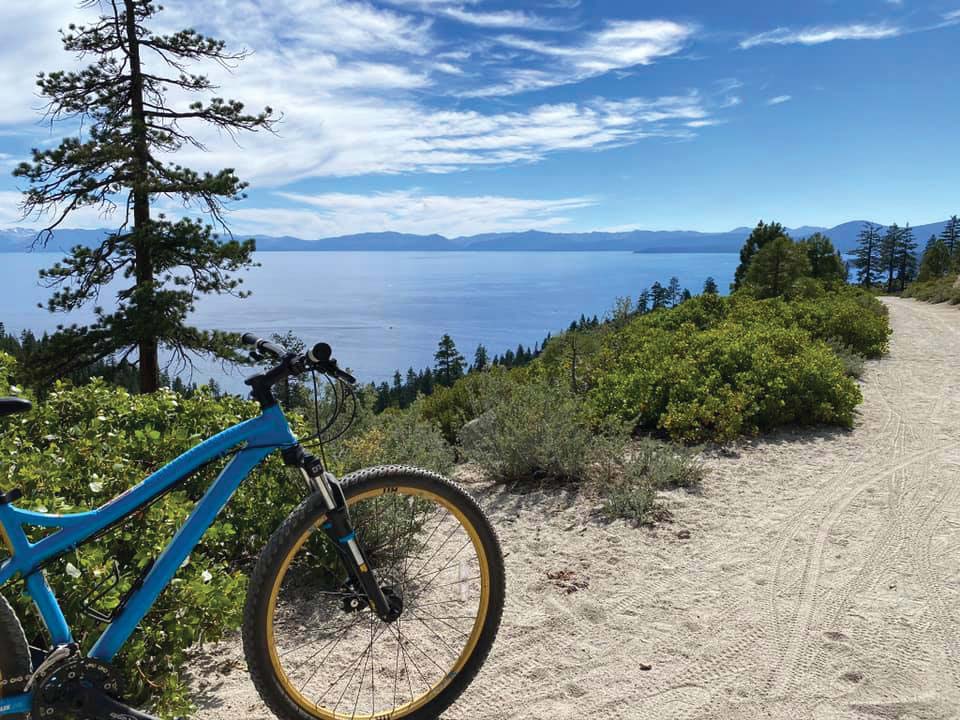 There are many sites and attractions along the trail from Anderson's to the beaches, including Pope Beach – Camp Richardson Resort, Beacon Bar and Grill, Tallac Historic Site/Valhalla, dog-friendly Kiva Beach, Baldwin Beach, scenic walks and more.
"The historic site at Valhalla is amazing," Sue says.
The Anderson's team can also point people toward a special paved trail that leads to Fallen Leaf Lake without having to deal with traffic on the main road. 
This amazing location, along with the business's longstanding history and reputation for providing great customer service, is why Anderson's has repeatedly been named Best Bike Rental Shop in local polls and is so well-loved by locals and repeat visitors. More than 75 percent of their customers are repeat visitors, many of whom are now bringing the second and third generations of their families.
Sue's late husband, Doug Anderson, and his parents started the business in 1978. Back then it was Anderson's Bicycle Rental and Skates (as in roller skates; yes, it was the '70s). Doug ran the business from 1993 to 2014 until his passing in 2014, which is when Sue and her kids, 24-year-old Bailey and 22-year-old Danny, took it over. Anderson's manages about 15 employees, most of whom are friends of Bailey and Danny.
"I've known all of these kids since they were in car seats, since preschool," Sue says with a smile. 
Now that Bailey is engaged to Andy, Sue is hoping that they will take over the business and down the line maybe have some kids of their own to keep Anderson's going for years to come.
"We're shooting for 100 years," Sue says. 
Anderson's maintains 350 bikes, the largest fleet on the South Shore. It has tricycles, tandems, mountain bikes, comfort bikes, trailers for kids and pedal-assist e-bikes. They can accommodate any age and ability. Sue says Anderson's oldest customer was 103 years old. The paved bike trail by the shop is nice and flat (except for a couple of small hills), making it bike-able for everyone, even centenarians.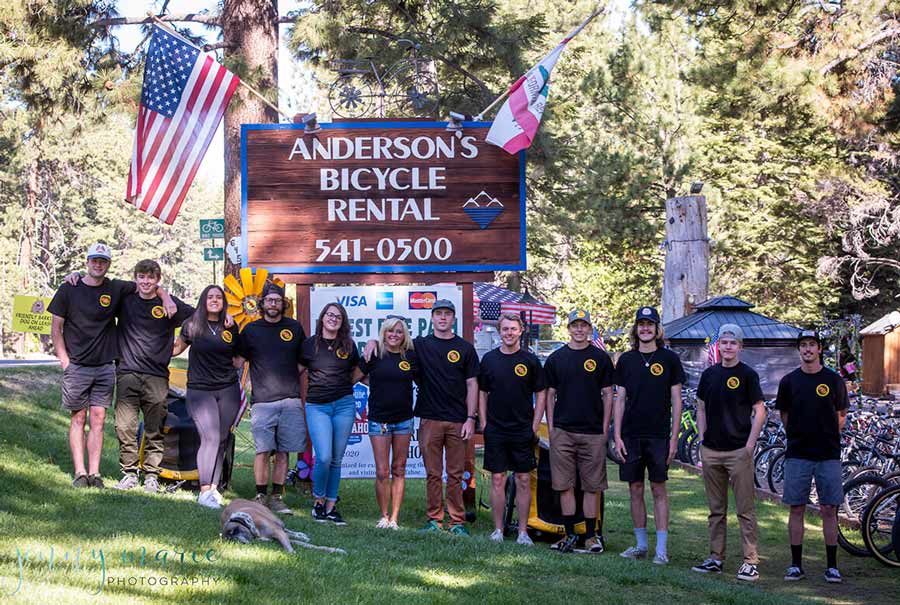 Anderson's has always been focused on their customers' safety, and that did not change during the pandemic. Following the pandemic, they still sanitize all bikes and helmets after every use and keep hand sanitizer/disinfectant wipes on all the picnic tables for people to use as they fill out their waivers. 
"We take care of people," Sue says. From her big, welcoming smile and engaging personality, you can tell that it's something that just comes naturally to her. Everyone enjoys being treated like family at Anderson's Bicycle Rental. 
No reservations are needed to rent bikes here; Anderson's only accepts customers on a first-come, first-served basis. Anderson's is open seven days a week from April through November, depending on the weather. Check the website for hours as they vary seasonally. To find Anderson's, be sure to enter the address in your GPS or maps app.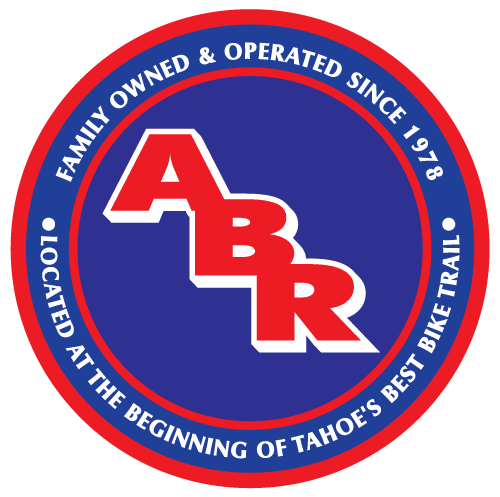 (530) 541-0500
andersonsbicyclerental.com
645 Emerald Bay Road, South Lake Tahoe
Corner of Hwy 89 at 13th Street
---