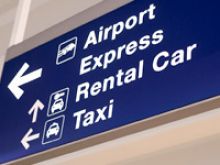 Chances are, if you are flying to Lake Tahoe, you will fly over the lake and land in Reno at the Reno-Tahoe International Airport (RNO). This international airport serves nearly 4 million passengers per year. Once landed, Tahoe-bound passengers make the 45-minute trek to Lake Tahoe over scenic ridges and highways.
If you rent a car, there are a few routes you can take to the lake.
Driving to the North Shore
Drive south on US-395 toward Carson City. Take the right-turn exit toward NV-431, Mt. Rose Highway. Enjoy the scenic climb over Mt. Rose and in about 45 minutes you will find yourself in the North Shore region of Lake Tahoe.
Driving to the South Shore
Take US-395 south, all the way to Carson City. From Carson City take Highway 50 on a scenic route to the South Shore region of Lake Tahoe.
Taking the Shuttle
If you pass up a rental car, you can take the South Tahoe Express, which makes trips between the Reno and Tahoe areas frequently throughout the day. You can also take the North Lake Tahoe Express, which travels from Reno to North Lake Tahoe and Truckee from 3:30 a.m.–midnight. They don't call it the Express for nothing! Many Reno casinos also offer shuttles that take skiers and snowboarders to a number of Tahoe ski areas. Enjoy scenic views through Washoe Valley or that of the Interstate 80 into Truckee.
Flying Your Own Plane or Private Jet
Truckee Tahoe Airport (KTRK) -– Located just outside of Truckee and Squaw Valley USA Ski Resort, the Truckee Tahoe Airport is a great place to land your private plane.
South Lake Tahoe Airport (KTVL) -– The Lake Tahoe Airport is located just 15 minutes from the heart of Lake Tahoe's South Shore community, the Stateline casino corridor and Heavenly Ski Resort. They've also got public transportation options, including rental cars, at the airport.