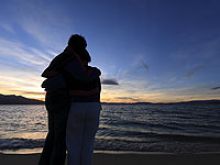 You might be surprised to find out that some of your favorite sports legends, like pro golfers Annika Sorenstam and Lefty George Archer, baseballer Scott Erickson and quarterback Trent Dilfer, like to play a few rounds of golf at the courses around the lake or hit the slopes to ski in celebrity and local spotlights.
Musicians young and not so young call Tahoe home, finding the clear melted snow cradled in mountains inspiring enough to put down their own roots. Sammy Davis Jr., Frank Sinatra, Cher, Liza Minelli, Alanis Morissette, Mike Love and James Hetfield are just a few of those musicians. Celebs, from TV sitcom stars to big-time movie makers, get their mail delivered to a Tahoe address.
You might wonder why you've heard so little about this, being an avid reader of the news. Well, it's the locals. They don't really like to talk about it. Sure, they might mention to the hubby that they saw so and so at the hardware store buying Christmas lights, but the Tahoe local, evolved creature that he is, will pride himself on NOT intruding on said celebrity's life and maybe tell that part of the story first. A few residents, like Mike Love, are active in the communities they live in, but that's highly irregular for the Tahoe celeb who is living incognito.
So, if you see someone famous you think you recognize, giggle to yourself, pretend you're from Tahoe and keep it on the down low.