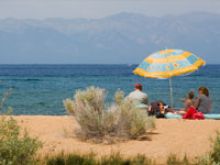 Wondering where to take the kids this Saturday? Why not go to a Lake Tahoe beach, and even better to a beach that has clean bathrooms, convenient parking, soft sand and maybe even a snack bar.
If you get going early enough, you'll make it into Sand Harbor State Park before the parking lot fills up. With two distinct beaches, silky soft sand, bathrooms and a cafe, you can't go wrong. It's a great place for kids with floaties and parents who like to build sandcastles.
For shallow wading water, head to North Tahoe Beach, where Highway 267 meets Lakeshore Boulevard, in Kings Beach. There's a grassy area near the BBQ pavilion, sandy expansive beach and the water is quite shallow for a good 5-minute walk straight out from the beach. And Safeway just across the street is great for king-size lemonades, fresh fruit and a bag of chips. Kings Beach has a sloping sandy beach, and a pier for great crawdad fishing, and you can rent kayaks, paddle boats and water trikes for added amusement, and there are loads of quick food options along both sides of the road here.
Camp Richardson toward South Lake Tahoe is another great family friendly beach with the lake's longest stretch of sandy beach and an awesome ice-cream shack just off the road. Try Meeks Bay for a quieter, camper-friendly beach, with shade from the surrounding pine trees rendering the umbrella optional. Check out Pope Beach in South Lake Tahoe for a family friendly option, with a long sandy beach and restrooms. Make sure to check out the local hardware or grocery store for some beach toys, towels and maybe some deluxe beach chairs, and don't forget the sunblock.