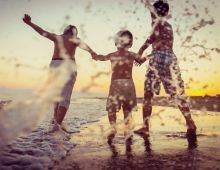 If you're wondering where to take the kids on the weekend or during your family vacation in Tahoe, the answer is best found in the great outdoors. And in the warmer months, it's a no brainer: a Lake Tahoe beach. No matter where you are in Tahoe, you don't have to look long or hard to find a nearby beach. That said, you have the family in tow, you need a family-friendly Lake Tahoe beach that offers comfortable and entertaining experiences for all ages. In Tahoe that means anything from soft, sandy places to play on to shallow and gentle waters for swimming, convenient parking, bathhouse facilities, picnic tables, barbecue grills, playgrounds and tempting eateries and shops nearby.
You may already be familiar with a few of these Lake Tahoe beaches, such as Sand Harbor Beach, Kings Beach, Commons Beach and Camp Richardson. Other family-friendly Lake Tahoe beaches take you a bit off the beaten path – but don't worry, that often means that they're less crowded than some of the better-known options.
North Lake Tahoe Beaches
Sand Harbor Beach stands out as a premier spot for beach-going in Tahoe. Home to two beaches with their own bathhouses and a cafe, families can play on the soft, sugar-sandy shores or in the water under the watchful eyes of beach lifeguards. Parking is available to visitors, but in the summer months, the lots at Sandy Harbor Beach tend to fill up fast, so get there early.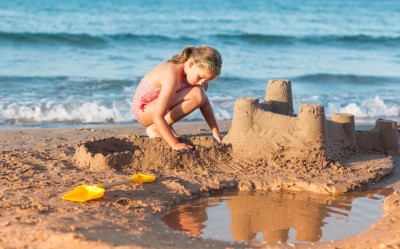 Kings Beach is home to North Tahoe Beach. The nice grassy space, a barbecue pavilion and, of course, sandy beach, all turn this spot into a relaxing outdoor play space for families, especially those with young children. The shallow waters extend for about a five-minute walk offshore, making it ideal for wading toddlers and youngsters getting acquainted with the water. Additionally, a nearby convenience store across the street is an easy and fast way to secure refreshing lemonades, fresh fruit snacks and bags of chips.
Kings Beach itself attracts visitors with more than just the sloping sandy beach. There's also a pier for catching crawdads and places to rent out kayaks, paddleboards and other watercraft equipment. With plenty of restaurants, bars and accommodations around the beach, Kings Beach gives families with a convenient way to squeeze in a little beach time during a day of other activities.
Heading southwest leads to Tahoe City, home to quite a few family-loved Lake Tahoe beaches. Commons Beach has no trouble drawing in visitors with its super-shallow waters, spacious grassy area and playgrounds, barbecue facilities and events, such as concerts and weekly outdoor movie screenings, in the summer.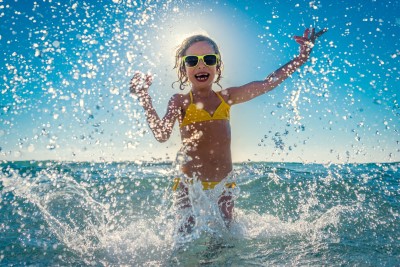 South Lake Tahoe Beaches
In South Lake Tahoe, beachgoers with both two legs and four make Kiva Beach a go-to spot. As one of the few Lake Tahoe beaches that allows dogs, Kiva Beach welcomes pet owners can take their pups, with their leashes, for walks on their leashes or into the water to play. Visitors will find this beach a bit off the beaten path, but for families, the lighter crowds is an additional perk.
Another dog-friendly Lake Tahoe beach is Regan Beach at Thomas F. Regan Memorial Park. This lakeside park invites the whole family to spend the day on lake. For children, a playground and special beach access for small visitors keep them up and going. Adults can picnic at the tables, play Frisbee in the grass or toss around a volleyball.
Whether you're rolling with your crew or hitting the beach alone, Pope Beach is a South Lake Tahoe beach visitors love frequenting. Build sandcastles on the expansive shore, or rent a kayak or paddleboard, and venture out into the waters. As a National Forest day-use area, this beach additionally serves as a destination for hikers and mountain bikers. With restrooms, a food concession stand, barbecue facilities and picnic tables, Pope Beach amenities set up visitors for a full day of lakeside play.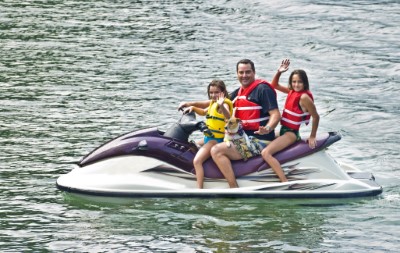 For a Lake Tahoe beach that pulls out all the stops, look no further than Camp Richardson. Jet Ski, paddleboard and kayak rentals are available at the camp, and the waters are ideal for swimming. When onshore, kick back underneath beach umbrellas or cook up a barbecue lunch with the grills and picnic tables. This resort provides plenty of assorted activities to keep children entertained. Dining options and cabin accommodations are located onsite, and the nearby ice cream parlor puts the cherry on top of any beach trip.
These are just a few options among for you and the family on your next beach day or even just quick dip in the lake. To learn more about where you can dip a toe into the Lake Tahoe beach scene, see which beaches catch your eye in our Lake Tahoe Attractions guide.