Every weekend droves of people looking to escape the hustle and bustle of city life make a pilgrimage from the Bay Area to Lake Tahoe. This 3.5- to 4-hour drive is a short escape to world-class hiking, skiing and resort amenities. However, prior to making the trip all weekend warriors should consider two important items: First, the part of Lake Tahoe you wish to explore; and, second, the current road conditions.
Driving to North Shore or South Shore?
Lake Tahoe is big. Driving around the lake is a 72-mile loop that takes 2 hours to drive. There are really two main routes from the Bay Area to Lake Tahoe. One route, along interstate 80, will take you to the North Shore and Truckee, while the other route, along Highway 50, will take you to the South Shore. Interstate 80 is more of a straight shot, with greater opportunities for pit stops and a higher speed limit. 
More info on Truckee and other areas of the North Shore
More info on South Lake Tahoe and areas of the South Shore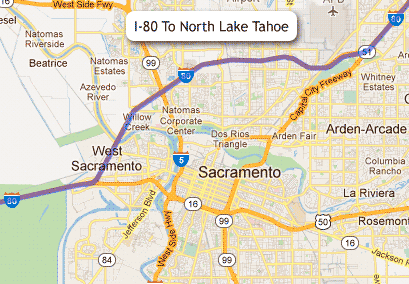 Both routes begin on Interstate 80 and fork in Sacramento. If you're headed toward the North Shore, take I-80 West and follow the signage through Sacramento toward Reno, Nevada. If you're headed to the South Shore, take Highway 50 and look for the sign that reads Interstate 80 Business/Sacramento/South Lake Tahoe. Highway 50 is more scenic with curvy roads and slower speeds. But it's still faster than driving I-80 to Truckee and then driving south on Highway 89 to South Lake Tahoe, California. Bring a camera and enjoy the scenery!
 
Winter Conditions May Exist
It is not uncommon to encounter snowy roads November through March in Lake Tahoe. Always be prepared. Travel with snow chains, extra water and a first-aid-kit. Or, check out the Bay Area Ski Bus. This company's luxury buses run five days a week from northern California locations. Save on gas, relax, watch TV and enjoy a safe, stylish ride to the slopes.
Tips from Bay Area Drivers
"Hit the road at a reasonable time. You're gonna get hella tied up in commuter traffic if you leave the city between 4-7 p.m. If you can, leave earlier in the day or later at night. This logic works on the return trip as well." – Ian
"I can't find sub-freezing windshield washer fluid in the city. Each year I buy my washer fluid in Tahoe so that when temps get in the teens, my fluid won't freeze and I'll be able to see where I'm going!" – Kyle