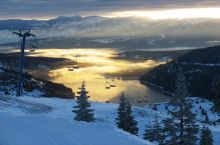 Situated under the Sierra Nevada Mountain Range, Lake Tahoe is a skiing and snowboarding paradise. The area is blessed with truly impressive skiing and snowboarding opportunities. No matter what side of the lake you are on, there is a Lake Tahoe ski resort there, ready to show you the thrill of gravity-fed fun on slippery snow. From the giants like Heavenly, Northstar and Squaw Valley to the smaller areas like Diamond Peak, Sierra-at-Tahoe and Homewood, one thing is for certain – enjoying time skiing or snowboarding is as easy at Lake Tahoe ski resorts. 
The Lake Tahoe area averages 400" inches of snow and more than 300 days of sun each year – the perfect combination for a day on the hill. Lake Tahoe ski resorts attract some of the top skiers and snowboarders in the world, but don't worry if you're a beginner. Lake Tahoe ski areas offer something for everyone, from novices to experts. Lake Tahoe has so many ski areas that sometimes it's hard to keep track of what's what. To help, here is a brief rundown on the many Lake Tahoe ski resorts. For more information, jump over to our Ski Resorts section.
Located immediately off Interstate 80, Boreal may have the easiest access of all the ski areas. Due to its superb location at 7,200 feet, Boreal is known for having snow earlier and later in the season that most of the others. It is also known for its impressive park that encompasses nine different park arenas as well as a BagJump. A huge bonus for Boreal is Woodward Tahoe, a giant indoor facility that offers the ability to practice park tricks in the safety of padded landings. The ski area has a 500-foot vertical drop, 480 acres of terrain and 41 trails accessed by 12 lifts. Its runs are 30% beginner, 55% intermediate and 15% advanced, with their longest run coming in at a mile long. A bonus of Boreal is the exceptional night skiing that lasts until 9 p.m. 
Sugarbowl is a fantastic mountain for those who enjoy a little bit of a homey feeling to their ski day. Located on Donner Summit near Truckee, Sugarbowl is fantastic for families. With its all levels of terrain as well as some superb short, steep lines, Sugarbowl can easily entertain all abilities. For the 2020-21 season, Sugarbowl has offered its season pass holders a gift by shutting down sales for the season to keep crowds manageable due to COVID. This is going to be a wonderful thing for all of those passholders, as Sugarbowl riders will most likely have the least crowded situations this season. Sugarbowl shares with Boreal the ability to get slammed by storms more than the other areas around the lake, especially with its base elevation of 6,883 feet and a top elevation of 8,383 feet. There are 1,650 acres of skiable terrain with 17% beginner, 45% intermediate and 38% advanced. The mountain has 13 lifts with 103 runs, the longest run being 3 miles long.
A fantastic ski area nestled within the borders of the Tahoe Donner Housing Community, Tahoe Donner is for families and those new to the sport of skiing or snowboarding. Tahoe Donner is the definition of a mellow introduction to the sport, making things a lot more fun. In fact, Tahoe Donner caters to those learning the tricks of the trade with their motto as being "the best place for family fun and learning." Tahoe Donner's terrain is mostly wide-open bowls and stellar beginner terrain that is enhanced by excellent grooming. The mountain offers five lifts that access 17 runs over 120 acres of skiable terrain; 40% being beginner, 50% intermediate and 10% advanced (there is no expert terrain). The base is at 6,750 feet, and the top is at 7,350 feet, giving 600 vertical feet of skiing. The area also offers snow tubing and sledding at its Snowplay Recreational Area.

Donner Ski Ranch is one of those hidden gems that most people don't know about. Located near Boreal, 3.5 miles off of Interstate 80 in Soda Springs, Donner Ski Ranch is a fantastic little hill for those who enjoy the solitude of the mountains while cruising mellow terrain. The ski area base is at 7,031 feet and tops out at 7,781 feet, giving a 750 vertical foot drop. There are 500 acres of terrain and 52 trails accessed by six chairlifts and two moving carpets. Their longest run is 1.5 miles long. It has 25% beginner, 50% intermediate and 25% advanced. Contrary to many of its competitors, Donner Ski Ranch doesn't have a terrain park.
Only a mile off Interstate 80 and situated near Donner Ski Ranch, Soda Springs is another quaint ski area perfect for those who enjoy a bit more of a tranquil experience. The ski area base is at 6,700 feet and tops out at 7,300 feet, offering 600 vertical feet of skiing. It has two chairlifts and two moving carpets with 30% of the terrain for beginners, 50% for intermediate and 20% for advanced, and the longest run comes in at 2/3 of a mile. Soda Springs has a kids' terrain park that has perfect small jumps to learn on. It's important to note that Soda Springs is open 10 a.m. to 4 p.m. and is closed on Tuesdays and Wednesdays, except during the holidays.
A major player within the Epic Pass, Northstar is a resort with all of the amenities, especially for a skier or snowboarder who desires terrain that is beneficial for the beginner and intermediate skier. With its giant village at the base of the ski area, the resort offers a large selection of restaurants and bars as well as lodging in addition to 3,170 acres of skiable terrain. The mountain base is at 6,330 feet, and the top is at 8,610 feet, offering 2,280 vertical feet of skiing. Northstar offers 20 lifts and 100 trails, 13% of which are easy, 60% intermediate and 27% advanced or expert. 
Another of the three major players when it comes to full-scale ski resorts (but on the ICON pass), Alpine Meadows Squaw Valley has had a reputation for decades for offering some of the best terrain available in Lake Tahoe. Dating back about a decade, Squaw Valley used to be its own endeavor, but then Alpine Meadows was acquired and now the two are one, giving skiers and snowboarders a huge amount of terrain to play on with just one pass. Since they are two different ski areas offering two different experiences, it is important to speak of them individually. Alpine Meadows, in my opinion, is a fantastic ski area for learning the ropes before moving on to the big leagues. The ski area tends to get a little bit more snow than Squaw because of its location on the crest, and it can offer better early or spring skiing. Alpine Meadows has a base elevation of 6,835 feet and tops out at 8,637feet, with 2,400 skiable acres of terrain and a vertical rise of 1,802 feet. It has 13 lifts accessing the goods as well as six terrain parks.
Squaw Valley looks a bit different. Squaw Valley used to have the nickname Squawlywood, being known as the stomping grounds for the elite athletes of skiing and snowboarding. In fact, some of the greats practiced on its beautiful off piste slopes, including Scot Schmidt, Shane McConkey and Johnny Mosely. Squaw does, indeed, offer some of the best steep skiing in the lower 48 states and ranks up there with the likes of Jackson Hole and Whistler, although its acreage doesn't quite equate, coming in at 3,600 acres of skiable terrain. Squaw's base elevation is 6,200 feet and summits at 9,050 feet, offering 2,850 vertical feet of drop. This is split into five terrain parks and 270 runs accessed via 26 lifts, of which 25% are beginner, 42.5% intermediate and 32.5% advanced/expert. The longest run is 3.2 miles.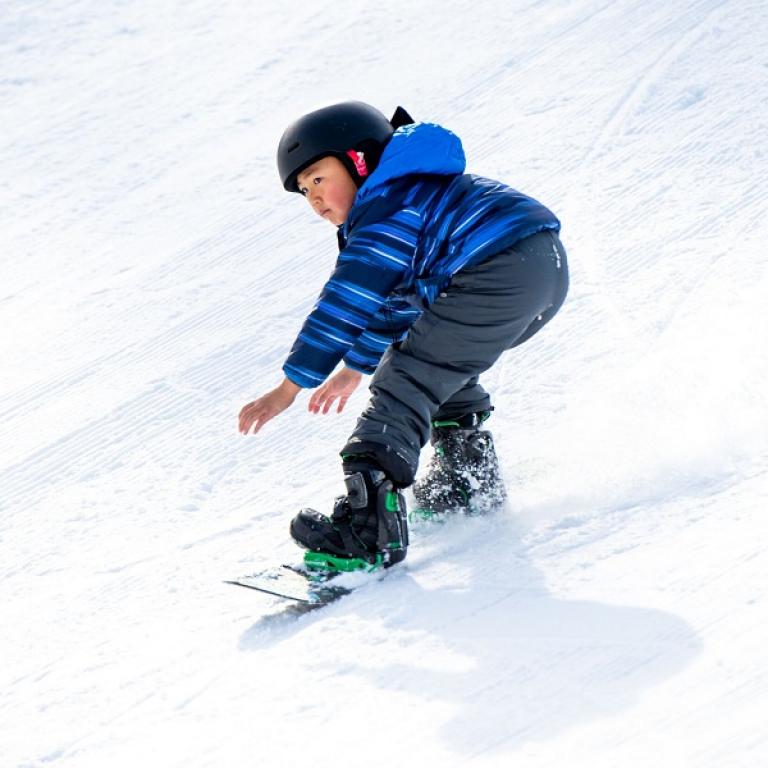 Homewood is one of those ski areas that just makes you feel good. It not only offers some of the best views, but also is one of the more welcoming (and least intimidating) of the ski areas. Homewood sits on 1,260 acres of skiing. The base is literally on the shores of Lake Tahoe (located just across the street) at a base elevation of 6,230 feet. The summit is at 7,880 feet, offering 1,650 vertical feet of elevation gain. There are eight lifts to choose from with access to 67 runs. Beyond lift-served terrain, Homewood also offers 750 acres of guided snowcat-accessible terrain that brings you up to 8,740 feet in elevation and gives you 1,840 vertical feet of drop.
Sierra-at-Tahoe is a ski resort built on fun. Accompanying 2,000 acres over 47 trails, this little gem is perfect for the entire family. Riding begins at 6,640 feet and climbs to 8,852 feet, giving 2,212 vertical feet of descent pleasure. The mountain is beautifully divided into terrain that is fantastic for those learning the ropes of skiing. The mountain is split into 25% easy, 50% more difficult and 25% most difficult with the longest run (Sugar n' Spice) measuring out at 2.5 miles in length. Sierra-at-Tahoe offers 14 lifts and six terrain parks. It also has a designated kids' ski and snowboard area and a snow-tubing zone as well as 3 miles of snowshoe trails. 
Located outside of Incline Village, Diamond Peak is a polished offering for those wanting ease with their skiing. Diamond Peak is community owned, making it a true diamond for the locals. Offering views that rival Homewood, Diamond Peak also has superbly groomed trails, easy access from the parking lot to the lifts and a dedicated Child Ski Center for the little tikes. Offering six lifts and a surface lift, Diamond Peak's base is situated at 6,700 feet and climbs to 8,540 feet, giving 1,840 feet of vertical drop. The longest run is 2.1 miles. Of the 655 skiable acres, 18% is beginner, 46% is intermediate and 36% is advanced, and there's one terrain park.
The biggest playground in Lake Tahoe, Heavenly offers the most bang for your buck. Located in South Lake Tahoe and another major player on the Epic pass, Heavenly has a gigantic village situated in the town's bustling metropolis. Lodging, restaurants and bars are plentiful, and it has fantastic views, a luxurious approach to outdoor adventure and a welcoming staff. Heavenly offers 97 trails that include everything from open bowls to perfect groomers, and it delivers with 1,600-foot ski descents and world-class terrain parks. Within the complex are 28 chairlifts accessing 4,800 acres of skiing and snowboarding. With 3,500 vertical feet of descent, Heavenly is known as the largest vertical drop on the West Coast. Base elevation is 6,230 feet, and the summit is at 10,067 feet. Heavenly also has two terrain parks. One fun aspect to Heavenly is that you can ski across the state line between California and Nevada.

Maybe my favorite hidden gem, Kirkwood is one of those ski areas that still has the welcoming atmosphere of days gone by. Filled with tons of little stashes and mini chutes, Kirkwood is a fantastic place to practice for steeper descents elsewhere. Another player on the Epic Pass, Kirkwood is known for its super-fun tree skiing and safe conditions when storms rage. Within its 2,300 skiable acres, Kirkwood may have the most amount of terrain features for its size, making playtime exponential. To access the goods, it has 15 lifts and 86 trails. The mountain has a base elevation that is pretty up there, at 7,800 feet, and a summit of 9,800 feet, making Kirkwood a sure bet for great snow when the temperatures are iffy. Their longest run is 2.5 miles long, and the terrain is split into 12% beginner, 30% intermediate, 38% advanced and 20% expert. 
Conveniently situated on the way to Reno from Incline Village, Mt Rose is a fantastic little ski area that has made it big. After the opening of The Chutes – steep, tree-lined chutes that will challenge even the best of the skiers and snowboarders – Mt Rose went from unknown to a major player. With a base elevation of 8,260, Mt Rose is the winner when it comes to snowfall. If other areas are failing in the snow department, look toward Mt Rose and you are sure to see the glistening white that you long for. In fact, the differences in snowfall can be jaw-dropping some years. The acreage of Mt Rose is 1,200, but there is a ton of backcountry skiing that surrounds the resort, making the zone comparable to European ski resorts. With 1,800 vertical descent to play with, the mountain offers 20% beginner, 30% intermediate, 40% advanced and 10% expert (i.e., The Chutes). In total there are 60-plus trails, with the longest coming in at 2.5 miles long. To accommodate access, there are eight varieties of lifts to choose from.
Photos from Donner Ski Ranch, Boreal Mountain, Soda Springs and Kirkwood