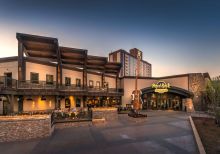 For skiers, snowboarders and people who enjoy plenty of shopping, nightlife and gaming, South Lake Tahoe and Stateline offer it all. For those with rock 'n' roll souls to boot, the fact that there's a Hard Rock Hotel & Casino here is music to their ears.
Conveniently located right on the main drag in Stateline, a block away from  Heavenly Village, Hard Rock is easily distinguishable by the towering guitar sculpture in its Guitar Plaza. The interior decor features classy wooden elements, plenty of rock n roll memorabilia and small nuances that pay tribute to the property's heritage, such as framed photos of Elvis Presley from back when he performed at Del Webb's Sahara Tahoe.
When guests check in, they have the option of choosing the Sound of Your Stay program, which truly sets Hard Rock apart from the other Tahoe hotel/casinos. In this program, guests are greeted with their favorite kind of music when they enter their room and may even reserve one of the hotel's 20 Fender guitars complete with a Fender Mustang amplifier and Nixon headphones. Don't play guitar? No problem: Budding rock stars can access guitar lessons on their in-room television. You can leave Hard Rock a better musician than when you checked in and forever remember Tahoe as the place where you learned how to rock n roll. 
For guests who are visiting to enjoy the snow, Hard Rock has teamed up with Powder House to offer in-room boot fittings, ski valet and a clothing shop with all the ski clothing and accessories needed for a fun day on the mountain. The hotel is only one block away from the Heavenly Gondola, so you can wake up, enjoy a sit-down breakfast at Alpine Union (or a coffee and breakfast sandwich at Fuel), then meet your gear at the base of the mountain without having to schlep it through the casino. 
"When you stay with us, you don't even have to lug your skis back and forth – Powder House does it for you," says Hard Rock Resort Marketing Director Brandie Warr.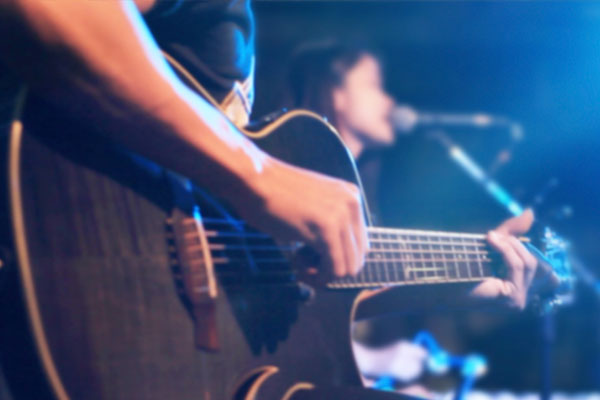 After a day on the slopes, many skiers and snowboarders wind down outside next to the toasty fire pits in Guitar Plaza with a hot toddy, Moscow mule or other drink with a rock 'n' roll flair. Hard Rock even has a shot ski for adventurous groups. 
Inside, the action and entertainment continue with the Vibe Pit, featuring high-energy table games intermingled with the newest and greatest pop culture slot machines. The Center Bar offers crazy good drink specials, which can include $1 beers and $3 cocktails. Center Bar has deejays on the weekends and a whole corner dedicated to the William Hill sportsbook with a multitude of flat-screen TVs for staying up to date on your favorite teams. 
The dining options at Hard Rock are off the charts. Hard Rock's steakhouse, Park Prime, is named after the Park family, the Nevada ranchers who owned the land on which Hard Rock now sits. The restaurant takes pride in using fresh, high-quality, locally sourced ingredients. The dry-aged prime Tomahawk beef steak in Park Prime can easily feed two, and the hearty grilled cauliflower steak served with dried cherry pesto, artichoke hearts, corn puree and other seasonal vegetables evoke pure gluten-free goodness. 
One of the most popular restaurants in the South Lake region, The Oyster Bar is on the casino floor next to the cashier's desk and is known for its foot-high seafood tower. It's by far the favorite dish on the menu, but the gumbo and salads are amazing as well. Hard Rock's seafood items are flown in daily to guarantee freshness.
When it's time to hit the hay, you'll drift right to sleep in one of Hard Rock's cozy beds with premium plush duvets and pillows. You'll rest easy knowing that the resort participates in the Clean the World project to help re-purpose single-use toiletries and reduce the amount of waste
Four-legged best friends are welcome to stay at Hard Rock, and while you're out hitting the slopes, you can get your pup pampered at the Hair of the Dog, a pet salon that provides daycare, boarding and even pawdicures. 
Whether you are looking to turn up the volume or wind down during your Tahoe vacation, Hard Rock has you covered. 
Hard Rock Hotel & Casino Lake Tahoe
50 Highway 50, Stateline
(844) 588-7625
hardrockcasinolaketahoe.com