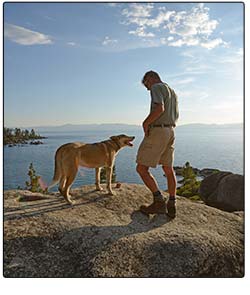 Everyone loves to visit Lake Tahoe. Scenic beauty and recreational opportunities, both indoors and outside, make this region one of the world's top destination spots. It's only natural that vacationers also want to share the experience with their non-human companions, but traveling to Tahoe with a canine companion does require some extra preparation, care and diligence.
Whenever pets leave their home territories, the change in surroundings can be confusing and bewildering to them. Special precautions must be taken to ensure that they don't become overwhelmed, that they are not given the opportunity to give in to a natural instinct to run away and hide. This is particularly important in the High Sierra where severe weather conditions and thousands of square miles of forest, wilderness and mountains populated by natural predators such as coyotes, mountain lions and bears can sometimes make finding a lost pet very difficult. Dogs should remain on a leash until completely acclimated to their new surroundings. 
Indoors or outdoors, you'll want to remember that the relatively high altitude of the Tahoe area will have an effect on your furry companions in much the same way it impacts you. While temperatures are cooler, there is less atmosphere to filter the sunlight, and the UV rays are just that much more intense up here. Less atmosphere also means thinner air, so ease into the more strenuous activities, particularly if it involves hiking up even higher into the peaks, and be sure to make plenty of fresh water available for your dog. 
In all cases, it is wise to have your pets current on their vet visits and shots and to have a copy of their health records along with you on the trip. This will help satisfy documentation stipulations of hotels, kennels or any other lodging that requires them and will also help to alleviate any concerns that other pet owners might have about their animal friends being in contact with yours. These records can also help identify and retrieve your pet should they inadvertently end up in the care of animal control or a local lost and found shelter. 
Tahoe and Truckee locals tend to be a dog-friendly group, so those people who choose to come here with their canine companions will feel right at home. There are local travel and vacation professionals who have a particular interest in accommodating tourists who are visiting Tahoe with dogs, and vacation rental provider Tahoe Moon Properties is a good resource for this sort of information. For example, check out their blog post about the best pet-friendly things to do in the Tahoe area. They provide great ideas that run the gamut from winter to summer, from the mountains to the beaches. The list can be found online at https://www.tahoemoonproperties.com/top-tahoe-pet-friendly-activities/.
Tahoe Moon Properties also offers a filter on their website for visitors seeking a vacation rental property that is amenable to travelers with pets. On their search page, you can simply enter whether you're traveling with one or two dogs, and the website will show all the available listings that meet your criteria. As has been noted, Tahoe is full of dog lovers, so you can usually expect at least two dozen or so lodgings or vacation homes to come up that will allow you to bring your pet along with you.
Other resources that are available to help you get the most out of your Tahoe vacation with your dog include additional blog posts and articles by locals and professionals such as the chambers of commerce, veterinarians and outdoor sporting goods businesses. One of the most frequently requested bits of information is advice as to which beaches at Tahoe are good for dogs and where they can frolic without fear of running afoul any local pet regulations or rules. The Lake Tahoe Visitors Authority website notes a pair of sites on the South Shore where you can enjoy the lake with your furry friends. The LTVA reports that Kiva Beach, west of the City of South Lake Tahoe toward Emerald Bay, is designated as a dog-friendly beach and that Regan Beach, located almost exactly in the center of town, has a set-aside area specifically for dogs to enjoy. Going back to the Tahoe Moon Properties list, the blog shines the spotlight on a North Shore location that is often overlooked. The California Tahoe Conservancy's Patton Beach is great for dogs, while the adjacent Waterman's Landing offers everything their human companions could want in the way of paddle sports along with a beach café for breakfast, lunch, coffee and beer.
This is all just the tip of the iceberg when discussing the amenities and facilities that will help make both you and your dog comfortable on your Tahoe vacation. For more information, just contact any of the professionals mentioned above and get ready for the dog-friendly Tahoe lifestyle!