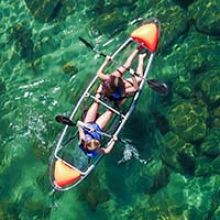 Clearly Tahoe is giving people a whole new way to look at Lake Tahoe.
Imagine skimming along a glassy surface of turquoise water. The sun creates a sparkling vision of diamonds that seem to float suspended on the surface. A soft breeze kisses your face. Framing you in all directions are picturesque mountains highlighted with a lingering of snow on the summits. The dark green forests that blanket the mountain landscape meet the sandy shorelines alongside you. The tranquil moment is given an exclamation point by a giant osprey plunging into the water only a few feet away, capturing a fish with lightning-quick precision. Your paddling movements become a meditation in motion. You have discovered paradise.
Now imagine that you could take this experience one step further. Imagine clearly seeing the lively world of Lake Tahoe's freshwater aquatic life below you. How? By utilizing a clear kayak!
Clearly Tahoe, a new kayak guide company in South Lake Tahoe, brought this awe-inspiring, unique recreational opportunity to our precious Big Blue. They offer completely clear kayaks that let you see a whole new side of Lake Tahoe — the part that is been hiding under the surface.
Offering guided tours and rentals in completely transparent kayaks all over the lake, owners Kelsey Weist and Geoffrey Miller saw a unique niche that had not yet been met in Tahoe. When they created the business, they decided on a different approach from other kayak operations.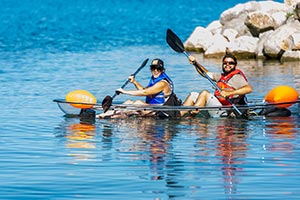 The boats are shaped very similar to a canoe; however, they're flat on the bottom. So unlike a canoe, they're very stable, and guests tend to stay much drier than they do in normal kayaks. Another bonus is that the boats have a really comfortable back rest.
Kelsey compares the experience in their kayaks to being a lot like the serenity that comes from a yoga class. "Our boats aren't meant for speed or agility in any way, shape or form," she says. "We don't go far fast. We don't tell our guests, 'Hey, we're going to paddle nine miles today.' We basically say, 'We're going to provide a full experience of exploring Lake Tahoe along the shoreline as well as up to 60 feet below the surface.'"
Intent on making each guided experience completely individualized, Clearly Tahoe strives to give guests a unique experience through the boats that they use. They also pride themselves in designing each tour specifically for their guests based on the various locations around the lake.
Kelsey describes the difference beautifully: "We take our guests on a leisurely paddle along the shoreline, in and out of some beautiful coves, point out some really amazing sights and cool things to explore that our guides have found beneath the surface, such as pieces of a boat wreck or a sunken pier, or maybe just a really cool, breathtaking area of the cove where you see the pyrite glistening under the surface in majestic rock formations. They'll point out where they might generally see invasive plants or animals, as well as native plants and animals, and why those plants or animals do or don't belong, and what kind of impact they have on the environment. Our guides like to incorporate the unique things that there are to see at each particular tour site."
This variation in a kayak experience is perfect for all ages. Anyone from age 5 years old to the golden years can find immense enjoyment from time on the clear kayaks. "We've had groups of 65- and 70-year-old women out there paddling around, loving it. They had an amazing time. They came back saying that they had to come back next year. And some of them did – they are now some of our repeats."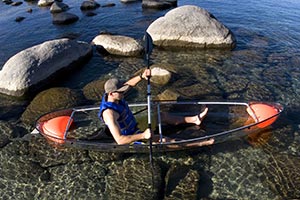 The enjoyment that Clearly Tahoe brings to the water is not limited to small groups. The company is able to host large groups over an entire day. "When we have a large group of people staying on the lake or having a conference or a retreat, maybe renting a gazebo on the lake for a picnic, a barbecue or a company outing, we can actually bring the kayaks to that location and have them all set up and ready for the group," Kelsey says. "We will design the group experience around their itinerary and timeframe, whether it's a short one-hour experience or a half-day paddle to another location where they can stop and take a break."
Clearly Tahoe can accommodate groups of up to 40 people at one time or 160 in a day. When they have a group that exceeds 35, they'll usually break the experience up into two back-to-back tours or offer a guided rental scenario in which the group can take turns with the kayaks at their leisure. They'll have some guides on the water and some guides on the beach assisting with that group.
"There will never be more than five boats to a guide for any of our clear kayak activities, ever," Kelsey says. "It's very important to us to give each guest the attention they need and deserve while still keeping the group together in a team-building atmosphere."
Not only has Clearly Tahoe brought a unique way to discover Lake Tahoe, but also they are partnering with local businesses around the lake, including other kayak rental companies. "We don't really compete with other kayak companies because we offer an experience that is entirely different," Kelsey says. "The only similarity is you're paddling on the water. Everything else is different."
She goes on to explain: "So when there are kids who just want to splash around in a kayak for an hour, they won't choose our kayaks. We definitely enjoy working alongside traditional kayak companies and complementing their services in different ways. When we're on site at one location, if someone walks up and wants to rent a kayak for an hour, we might explain that if you're trying to go out and swim off the kayak, this might not be the kayak for you, you might just want to rent a normal paddleboard. If someone calls us and really wants to go out in the afternoon when the water might be a little choppy, we refer them to various kayak companies around the lake, and we'll make recommendations to what kayak company or beach is close to them. If they want an on-site, same-day rental, we'll do the same. We'll recommend a kayak company that might be near them."
Their collaboration extends to vacation homes and accommodations as well. Kelsey says they work with all sorts of local businesses, from local lodgings to providing an additional amenity for a homeowner. If guests are staying somewhere right on the lake, they can check with their lodging and see if Clearly Tahoe offers services directly to them at that location. A lot of concierge offices or front desks have a private online link to book with Clearly Tahoe, making it really easy. Clearly Tahoe can also bring the boats right to guests at specific locations. Those requests usually should be made the day prior. If guests are staying somewhere right on the lake that isn't already part of Clearly Tahoe's location partners, Clearly Tahoe can always submit a request to bring them to that location. Otherwise, they offer pre-scheduled tours daily at various locations around the lake.
The positivity that Clearly Tahoe brings to the area extends beyond recreation and into a deeper aspect of the community. They work closely with the League to Save Lake Tahoe to help monitor the invasive species and the impact the invasive species have on various locations all around the lake. "Because we are visiting many different locations around the lake, our guides have the opportunity to see, explore and really study the shorelines while they're out on site. It's a wonderful partnership, as they are able to report back to the League to Save Lake Tahoe at the end of every day and report any findings that may help the League to Save Lake Tahoe monitor the spread of invasive plants."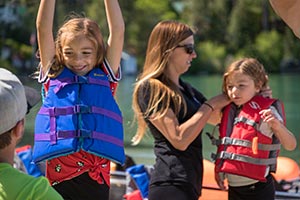 Their outreach extends to youth as well. They work with many school groups to educate children on facts about the lake and its history as well as the impact of invasive plants and animals in Lake Tahoe. They've even done events with the League to Save Lake Tahoe in which they combine a brief eyes-on-the-lake training for the kids with a kayak experience to apply what they had just learned and go look for those invasive plants through the clear kayaks.
The good deeds of Clearly Tahoe are making an impression where no one else has wandered: into the depths of the lake itself.
"We are starting to do something really unique in that we are starting an underwater cleanup program," Kelsey says. "While a lot of businesses in the Lake Tahoe area adopt shoreline cleanup on their beaches, we adopted an underwater cleanup. Of course our guides clean up any kind of garbage or things that don't belong that we see on the beach. However, when we're in the water and we're with a group and we have everyone's eyes not looking just on the shoreline but beneath the surface, we do sometimes see things down there that don't belong, such as cans and bottles and pieces of beach chairs or beach umbrellas that have ended up under the water. There are tires and guardrails and sunken kayaks, and we make note of where a lot of these things lie under the surface. In September, we will be working closely with a dive shop and a lot of volunteer divers – even some guests from the past are going to come back to help – and we're going to go under the water and remove a lot of debris that doesn't belong."
It is easy to see that Clearly Tahoe is not only giving visitors to Lake Tahoe a new way of experiencing our precious Big Blue, but also they are helping her and her people in the process.
As was so well said by Jonathan Swift, "Vision is the art of seeing what is invisible to others." In giving the gift of seeing below the surface, beyond the invisible, Clearly Tahoe is offering to this community and those that visit a deeper way to dive into her beauty and protect her in the process.
Contact Clearly Tahoe at (530) 554-4664 or visit clearlytahoe.com