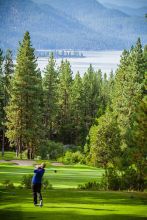 Incline Village's reputation for providing its residents and visitors with almost immediate access to fabulous recreation gives this town a setting reminiscent of a country club. In a place that evokes such feelings, golf is practically an implied pastime. The things to do in Incline Village provide not one but two amazing golf courses. Incline Village golf attracts a range of players, from the seasoned professionals getting in a few practice swings during their Lake Tahoe vacation to the newbies who can't tell a wood from a putter.
Known as the Incline Village Golf Courses, the two greens in town actually operate under the same business. There's the Mountain Golf Course and the Championship Golf Course, and the distinctive features of each appeal to their varying clientele, attracting members and visitors ranging from young children taking their first swings to the experts in the sport.
Among other accolades, the Championship Golf Course regularly gets top-tier ranking in Golf Advisors' Top Rated Courses in the Tahoe Area list and in 2018 was voted number 10 in their Best Courses to Play in Nevada list. Robert Trent Jones Sr. designed this par 72 course, and it's not just the challenging terrain that tempts flocks skilled golfers, but the environment, too, is a sight to behold. Steal glimpses of Lake Tahoe as you navigate the green's slopes. As peaks of the Sierra Nevada rise in the distance, you can make your way from hole to hole in the shade of mountain pine trees.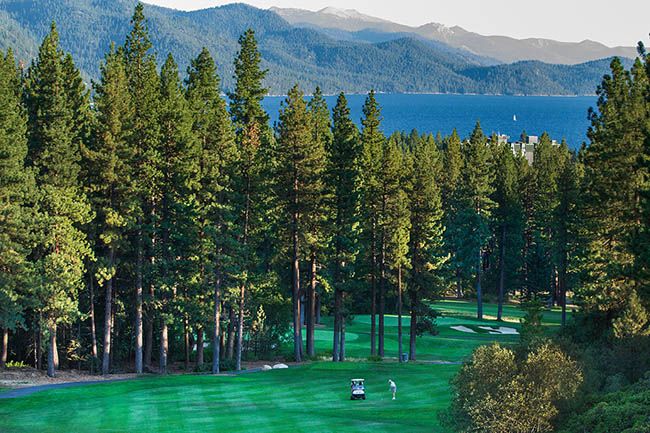 The Championship Course
Swing in Style with Incline Village Golf
This Incline Village golf course doesn't skimp on amenities either. Perfect your strokes on the driving range, chipping green and putting green, or enhance your technique with one-on-one guidance from a PGA-certified instructor. Additionally, players receive GPS-equipped golf carts, TaylorMade rental clubs and more perks. While you mosey from hole to hole, the on-course beverage carts keep you refreshed. After the final hole, unwind at the onsite restaurant, the Grille at the Chateau, with a beverage and bite.
The Championship Course is open to all, but to ensure that you get to experience this iconic course, reserving your tee time in advance is recommended. Daily rates tend to range upwards of $100, but after 5:30 p.m., golfers have the option to play nine holes for a fraction of that – not a bad way to finish the day!
The Championship Course is a choice example of golfing at its finest. Equally as scenic but slightly more accessible, the Mountain Course appeals to a broader range of Incline Village golfers. Recreational players are joined by different club groups at this Lake Tahoe golf course, and you can also find novices taking their very first strokes alongside those squeezing in a quick round after a day of work.
Another Robert Trent Jones Design, this 18-hole par 58 course offers an experience that can only be described as elevated. As the highest elevation golf course in the state of Nevada and the Tahoe Basin, the setting features rolling greens nestled in the midst of mountain peaks. In the company of the mountain flowers and towering pine trees, the course provides players with a tranquil escape from the bustling world where they can relax and revel in the crisp mountain air while perfecting their swing.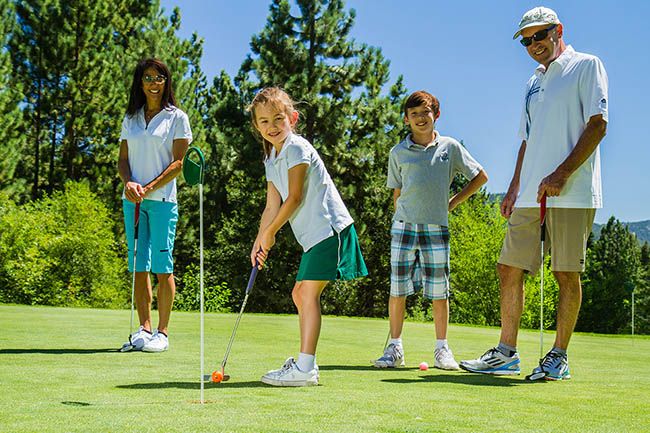 The Mountain Course
Finding Community with Incline Village Golf
The Mountain Course frequently hosts events and activity groups such as golfing and wine tastings and family-friendly golf challenges that conclude with a barbecue. They're a popular spot for men's and ladies' golfing clubs, some of which get together both on and off the course. In fact, if you like golf – or want to get to know the game – let this be your starting point to find a new community.
The Incline Village golf courses operate seasonally from May through September and October (for the Mountain and Championship courses respectively). You can learn more about the different facilities on the Championship Course and Mountain Course websites. So whether you're green to the game or an old pro, treat yourself to an upscale Lake Tahoe golf experience where all you have to do is unwind in the lakeside forest and lose yourself in the game.