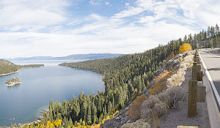 Lake Tahoe is the place to camp. To camp by a sandy beach, deep underneath the pine trees or wedged on a hillside with the mountain mahogany, you just have to reserve a spot, pack the car and back 'er in.
Lake Tahoe campgrounds have that extended family feel, and you're sure to make friends with your neighbors before the trip is over. You'll find showers, toilets, BBQ grills and fire grates — some places sell fire wood and others rent boats — but at each campsite around Lake Tahoe, you'll find a home away from home that you won't soon forget.
Be sure to book in advance. Here are a few highlights:
D.L. Bliss State Park by Emerald Bay is far off the main road and nestled between lichen-stained boulders and timeless pines, with a beach and a great hike to Emerald Bay.
Eagle Point at Emerald Bay State Park lies nestled under the trees overlooking the bay from the point, and the camp hosts are always there to lend you a fishing pole or a box of matches, should the need arise.
Sugar Pine State Park is across the highway from the beach, but the campground is quite family friendly. The trek down to the water across the highway is great via bike or a long walk, and the mansion is a great glimpse into Tahoe history.
Camp at Meeks Bay on Meeks Creek and get a bit of Native American history from the culturally rich area.
Or head to Camp Richardson near Valhalla, and you'll find a great bike trail for some summer pedaling. Just a short walk to the beach.
Zephyr Cove offers a few drive-in sites, just across the road from the Zephyr Cove resort in Nevada.
Camping at Nevada Beach offers a windy but beachy campsite experience on one of the longest beaches at Lake Tahoe with some  sites on the beach and others nestled in the hillside.
Kaspian Campground on the West Shore is roughing it for car camping.
And if close to town is what you had in mind, check out William Kent just 2 miles south of Tahoe City on the North Shore.