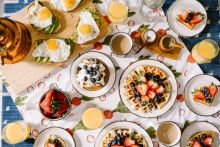 In South Lake Tahoe, you better hope you wake up hungry. This town has no qualms with breakfast being the most important meal of the day. The variety of South Lake Tahoe restaurants for breakfast offers a little something for everyone – from the go-getters looking to fuel up before a big day of activities to those of us who keep the morning to a coffee-centric affair. So rise and shine and leave your belt at home; it's time to tuck in to breakfast in South Lake Tahoe.
For the Hollow-Legs
South Lake Tahoe is a destination for physical activities and outdoor adventures. Whether you plan to standup paddle board around the South Shore, scale the craggy sides of mountains, hike on rugged trails or tackle black diamond slopes, your day requires sustenance from a South Lake Tahoe restaurant before anything else. Get a classic breakfast in South Lake Tahoe by committing to platter-sized portions of steak and eggs and home fries … and perhaps that side of pancakes, too, for good measure. If you tend to wake up with a sweet tooth, the pancake houses can satisfy your sugar fix early. There, towers of pancakes and berry-topped waffles await. And a good breakfast need not cut into your day's agenda – some of these South Lake Tahoe restaurants open before the sun even rises!
Breakfast in South Lake Tahoe for the Health Nuts
If your stomach isn't quite ready to take on such a feast before noon, there are numerous lighter (and healthier) breakfasts in South Lake Tahoe for you to enjoy. Fuel up without being weighed down when you head to juice and smoothie bars, or check out health-forward cafes for breakfast-rice bowls topped with fresh veggies and eggs. And vegans and vegetarians will easily find plenty of options, from picture-worthy avocado toasts to vegan baked treats.
For the Coffee Snobs
The morning's featured attraction isn't always exclusive to breakfast. South Lake Tahoe restaurants include cozy, artsy coffee shops where skilled baristas make drinks that are as eye-catching as they are delicious. These funky spots are more than just places to sip Fair-Trade brews as the espresso machines whiz away; they're comfy spots to meet up with a friend or bring a laptop and do a couple hours of work. You'll also find retro, diner-style coffee shops in South Lake Tahoe as well where the good coffee is accompanied by hot plates of breakfast.
For the Insta-Savvy
We all want our breakfasts to taste delicious, but what about those that tempt the eyes just as much as the stomach? Some places for breakfasts in South Lake Tahoe sights to behold themselves alone. From tables offering miles and miles of lakeside views to artfully topped acai bowls and even photogenic danishes, be sure to have your camera at the ready.
Breakfasts in South Lake Tahoe for Late Risers
Waking up with the sun isn't for everyone. If zzz's are your priority but you still want to get down with a big breakfast in South Lake Tahoe, several places serve it all day. So yes, catch the sunrise yoga class or squeeze in a few runs down the slopes – those omelets and breakfast skillets will wait.                              
After breakfast, you still need at least two more meals to get through the day (maybe more if you include snacks and an evening happy hour). Learn more about every South Lake Tahoe restaurant here.