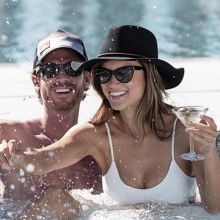 What's in store for guests of Edgewood Tahoe Resort this summer?
From golf and private beach time to in-room happy hours and outdoor movie nights, the award-winning, luxury boutique resort does whatever it can to make guests feel safe, comfortable and relaxed. First and foremost, it allows guests to take in the immediate splendor of the lake and experience a connection to nature.
"At arrival, I think the beauty overtakes you a little bit," says Siobhan Fajayan, Edgewood Tahoe's director of marketing and sales. "There's a focus on connecting to each other and maybe disengaging from technology for a while. The magnificence of Tahoe surrounds you, and everything we offer is centered around it. It gives you time to live in the moment."
Since room rates are higher during Tahoe's warmer months, the level of value at Edgewood Tahoe goes up as well. Guests can get in some much-needed private beach time on the shores of Lake Tahoe's crystal-clear waters or venture out on the lake via kayak, paddleboard or Jet Ski.


One of the premier activities at Edgewood Tahoe is golf. The 18-hole, par 72 course is home to the American Century Celebrity Championship, and Golfer's Choice ranked it #4 for Best Conditions in 2021. Additionally, the course recently became one of around 900 courses in the United States awarded with an Audubon International certification, thus showing its commitment to preserving wildlife habitat and environment around its property. Even the pro shop is impressive with its huge variety of gear and memorabilia.
Edgewood Tahoe's summer runs from Memorial Day through Labor Day, but staying at the resort in the off-season (April and October) has some hidden treats as well. The Tahoe region is known for its 275-plus days of sunshine, meaning one can often catch a bluebird spring skiing day at Heavenly Mountain Resort, which is only five to 10 minutes away. Off-season guests can partake in Earth Day wellness and meditation events in the spring or participate in a beer and hard cider tasting and wreath-making classes in the autumn months.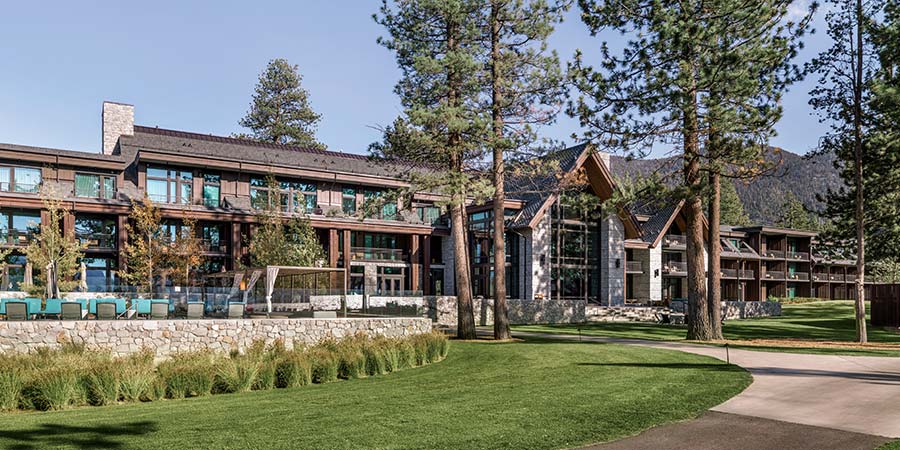 Edgewood Tahoe offers an abundance of luxurious adornments that cater to vacationers looking for an elevated relaxation experience in the Sierra Nevada. Thanks to partner Veuve Clicquot, Edgewood Tahoe provides guests with a complimentary glass of champagne at check-in and transforms its wintertime Champagne Chalet into a Bubbly Bungalow when the weather changes. 
Another splendid benefit is the Après Sleep Cart that offers a full array of wellness items to help you get a restful night of slumber and wake up feeling more refreshed. The cart contains items like soothing rose geranium and honey balancing mists, homemade granola, mini chili chocolates and fresh green juice with ingredients that help quell altitude discomfort. 
When the weather is nice, Edgewood Tahoe hosts daily morning yoga sessions on its lakeside green and evening s'mores at its main firepits. The resort also sprinkles in movie nights on the lawn (with popcorn, of course). 
During the pandemic, Edgewood Tahoe started hosting in-room happy hours in which its best bartenders would personally visit guests and mix up exquisite cocktails (especially those made with Veuve Clicquot); the offering became such a hit that it will likely continue into the summer months of 2021. 
Many guests' first inclination is to book a suite at Edgewood Tahoe, but don't overlook the resort's premier lake-view rooms. They are minimally furnished to provide plentiful open space, and they offer peaceful views of the towering pines. All the premier rooms have balconies, soaking tubs and fireplaces. 
With its recently renewed Forbes 4-star rating, Conde Nast Traveler Readers' Choice Awards designation and its membership of Preferred Hotels Awards, Edgewood Tahoe is a retreat of distinction. Fajayan suggests a stay of at least three or four nights to experience all that you want to see and do ... and at least get a few Instagrammable photos.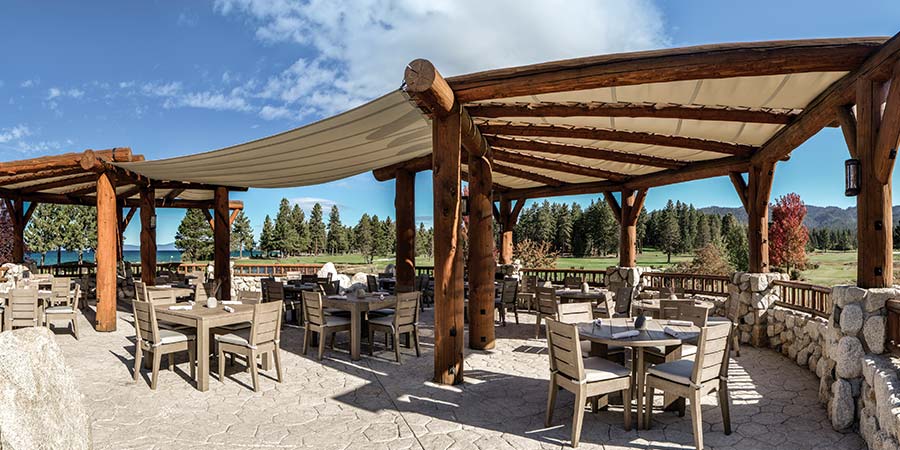 "Forbes just named Edgewood in the Top 30 Instagram Hotels of 2020," Fajayan says. "We were really trying to keep people engaged even at the height of the pandemic, so this is a huge deal for us. We're proud of our social media posts and incredible photographers."
Filled with breathtaking scenery, tantalizing food, fine details and happy people, Edgewood Tahoe Resort's Instagram feed offers an honest representation of the ultra-satisfying vibes at this one-of-a-kind luxury resort.
 
Whether you want to reset and relax or stay busy with outdoor activities, a summer stay at Edgewood Tahoe is always unforgettable.

(888) 769-1924
180 Lake Parkway, Stateline, Nevada