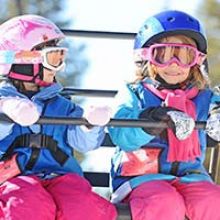 The smile is mesmerizing. You have never witnessed your child with a grin so massive. It literally takes up the entire expanse of her excited face. Your idea to take a family vacation in California's land of clear mountain lakes, robust forests and snow-capped peaks is showing itself to be an opportunity of connection, love and laughter.
This is the true gift that Lake Tahoe offers – a landscape filled to the brim with wonderful ways to enjoy time with the entire family. No matter what the age, there are incredible activities that will help you create memories that will be cherished for a lifetime.
But knowing what to do, when to do it and with whom to do it with can be tricky. That is where caring businesses like Stay in Lake Tahoe step in.
Stay in Lake Tahoe Rentals has families' interests at heart. From assisting with choosing the best routes to drive when considering weather and crowds to connecting you with the most fun, free activities for kids, helping guests connect with the vacation of their dreams is what makes Stay in Lake Tahoe one of this area's optimum rental companies.
For example, did you know that situated on a secluded beach of Lake Tahoe is an authentic Vikings Castle ready to be explored or that you can build sandcastles with your kids while famed actors vividly tell Shakespearean stories on a stage only feet away. Or maybe the thought of racing your kids down manicured groomed ski trails and then following that up with some hot chocolate sounds like an endearing experience. If you dream it, it's pretty safe to say that it can happen, especially with a little help from Stay in Lake Tahoe. The challenge comes in choosing which activity matches your family's desires most and then coordinating it with a time that lets you take advantage of all the amenities.
Stay in Lake Tahoe has more than 40 years of experience helping visitors decipher the various avenues of fun that Lake Tahoe offers and then matching it to their guests' desires. But they even take it a step further. To encourage that feeling of family-friendly travel, Stay in Lake Tahoe also helps guide guests on road conditions and travel times. They are, in essence, a source for the insider's knowledge that all visitors to the area crave. For example, they have a program, Xplorie, that connects guests to fun, free activities matched perfectly with your specific vacation days. They also have their supportive KEY Concierge that takes the stress out of making reservations for anything from a guided snowmobile excursion to a romantic dinner for two (plus the babysitter that makes it possible).
Another impressive aspect to Stay in Lake Tahoe is how well connected they are to the particular needs of each of their guests. With a plethora of properties to choose from, they make certain that the one they pair with each family matches their specific needs, whether it involves access to the lake via a private pier or gaining ground on your tennis game by having full use of a private tennis court. Stay in Lake Tahoe knows how to create that perfect family vacation. To increase the joy factor even more, they also have the inside beat on great discounts that they pass on to guests. For families that include a four-legged, furry friend, they are also skilled at connecting you with the best resources. From their in-home, detailed welcome books that accompany every house to their 24-hour help line, Stay in Lake Tahoe is dedicated to making each and every family have that perfect vacation.
One more way that the folks at Stay in Lake Tahoe show support for families is by lowering the worry meter. As many parents can relate, there's an underlying fear that, in a moment of looking the other way, there might be damage done to the house rental. Maybe it is a wall getting the extra sparkle of permanent marker, or possibly it's lots of dirty shoes romping throughout the house without a care in the world. Either way Stay in Lake Tahoe helps create an assurance of fun with their accidental damage coverage and travel insurance options. This kind offering takes away so much of the burden of worry when it comes to traveling with kids.
Lake Tahoe is a paradise for families. From little ones to teenagers, there's a plethora of fun activities to keep your clan smiling, laughing and enjoying time together. And, truly, there's nothing better in life than bonding with loved ones while playing in the great outdoors . . . especially when you have a local company offering a helping hand.