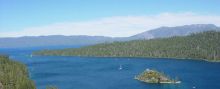 Whether you're heading out for a scenic drive around the lake, or traversing from north to south for a change of scenery, be sure to keep your eyes open and one finger on the turn signal; there are great lookouts and incredible sights as you circuit the lake.
Heading south-west from Incline Village on Highway 28, keep your eyes fixed onCrystal Bay, the deepest bay at the lake, and look for those famous underwater boulders. Next, park at North Tahoe State Beach, at the junction with Highway 267, and walk down to the beach to take in a glorious and unobstructed view of lake, mountains and sky. Back in the car, look out the window lake-side to see Fanny Bridge in Tahoe City, or better yet, park across the street, have a bite at the lovely cafe there, then add your Fanny to the Bridge for other passersby to see.
As you travel west, you'll find in some spots the road is only a few yards from the beach. At Sugar Pine, you can drive in, stop to picnic on the lawn, tour the mansion and walk down to the beach to see the mountain view from another perspective.
Keep heading south and pull out at Vista Point, for a breathtaking view of Emerald Bay and the tiny island down below, as well as Eagle Falls and sheer granite mountain above. Keep your eyes peeled for South Lake Tahoe vista points as well, maybe driving into the Tahoe Keys for a little meandering detour of the man-made "keys" before heading north again to behold Cave Rock, just before you pass through it via tunnel.
Turn off at Logan Shoals Vista Point to see Emerald Bay across the lake. Further north you'll find the turnoff for Thunderbird Lodge, so keep your eyes open on the lakeside for a glimpse of the boathouse. As you near Sand Harbor, you're sure to see some fantastic lake views between the tall pine trees as you wind your way around the lake.
Enjoy the views, and be sure to have a passenger take the pictures!