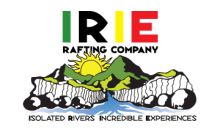 Rafting Tour Guide Company in Truckee, CA 
IRIE Rafting Company Inc. provides an amazing rafting experience that always exceeds the consumer's expectations of service and safety. From the Lower Truckee Gorge to the Middle Fork of the American, we've got the trip to suit your style and your budget. Half-day class III trip with the family? No problem. Multi-day wilderness trip? Done. Full-day Class IV with the girls or boys? What are you waiting for? We also offer discounts for non-profits, large groups, and military families.
Our livelihood depends on keeping our rivers clean and protecting them so future generations can benefit both economically and recreationally. We try to do our part by recycling and using recycled products, serving organic food, supporting environmental organizations, participating in river clean-ups, and practicing Leave No Trace outdoor ethics. We are a unique outdoor outfitter in many ways and we integrate on-river environmental education through knowledge of flora and fauna, geographical history, and preservation techniques. Having a connection with the outdoors is fundamental to conserving and loving our environment. Providing access to beautiful wilderness locations for underrepresented and minority populations is not only important for our Company but also for our Environment.