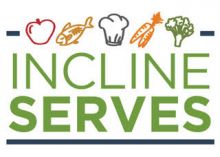 Incline Serves
The Covid-19 crisis has created both a growing hunger and a business crisis here in Incline Village. Food demand has tripled in the last month at both the Sierra Community House and the local Boys & Girls Club. Our village now needs over 900 meals each week.
Restaurants in town are also struggling to survive. If they haven't already shuttered their doors (we hope, just temporarily) they have had to let go of their food service workers – who now may find themselves in need of those very same safety-net services.
Incline Serves is a collaborative initiative designed to help both our restaurants and feed those who are struggling to eat in our community.  We are purchasing meals locally and working with the NLT Boys & Girls Club to distribute them. Our goal is to provide 9000 meals between April 25-June 30.  Checks can be made to the Rotary Foundation of Incline Village.