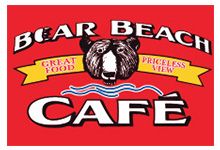 Bear Beach Café Tahoe - 22 Miles of Lakeview
It is with great sadness that we must announce the closure of Bear Beach Café effective Sunday, December 1, 2019. The continued increase in labor and operational costs have made it impossible to continue to serve our guests in the manner we and you have become accustomed. The management and staff thank all of you, our loyal guests, who have supported us for the last 11 years. We have enjoyed becoming friends and sharing your special occasions with you. We hope to see you again in the next two weeks. In the future you will find some of us at our sister restaurant, Heidi's, across and down the street. We might even bring some of our favorite muffin recipes with us.
We opened on Christmas Eve 2008. Bear Beach Café offers "22 miles of Lake Views." We made it our slogan as we never get tired of looking out our front windows. We get a daily reminder that we are so lucky to live in this paradise. In the summer, we open the front lawn patio. Fido gets a chance to enjoy that view with you. The indoor ambiance is cozy. We think all the bears scattered throughout the restaurant are fun, some think they're corny; that's ok too. Bear Beach Café is not a chain. We are one of a kind.

We are a family-run business with long term family/team members who have been together for a long time caring about what we do every day. Some of us have been together since opening; others came along a bit later. Still others of us have worked together in other operations for decades.
Bear Beach Café: Great Food, Great Service
Bear Beach Café in South Lake Tahoe is known for its great food and service. Our house made muffins baked fresh every morning are "to die for." Our omelettes and burgers are huge. Try our signature sausage country gravy and in house biscuits. Manny's Clam Chowder on Friday's, rivals what you can find on Pier 39. Our half pound burgers are never frozen and they are pattied in house. We hand cut our own top sirloin steaks and pork loin chops with the same care as if you were coming to our home for dinner. Chef Jorge makes all of our soups from in-house vegetable and meat stocks. Bear Beach Cafe is old school. We really enjoy this business and love to have you enjoy what we offer. That is, home style food, old time hospitality and having fun doing it.
Come visit us in South Lake Tahoe.